Russia 'ready to rebuild ties with U.S.' despite Georgia support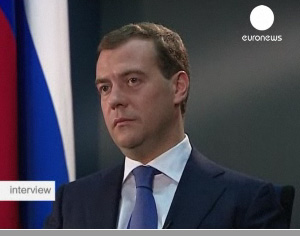 The United States has strongly criticized Russia for its role in the recent Georgia conflict and its recognition of the country's breakaway regions, and has pledged support for the Georgian leadership, which Russia has ceased to acknowledge.
Dmitry Medvedev told news channel Euronews on Tuesday that tensions in relations with the U.S. "are the consequence of not entirely reasonable policies on the part of the U.S. toward Georgia."

He said the U.S., which has provided substantial military and political support to Georgian President Mikheil Saakashvili, has given him carte blanche to act as he chooses.

"The result of this is evident... There is now a certain annoyance in the U.S. that this virtual 'Free Georgia' project didn't succeed. The leader went bankrupt, the regime is close to crisis, and the situation is tense."

That the sooner the U.S. resolves this problem, the better for Russian-U.S. relations, he said.

"We are ready for them to be restored in the best possible way, we are ready for fully functioning relations with the U.S.," he said.
---
More articles on this topic:
Putin Accuses U.S. Over Georgia
Western powers condemn Russia over Georgian rebel regions
The West should be guided by facts
All rights reserved by Rossiyskaya Gazeta.