Ruble hits 7-month low against resurgent dollar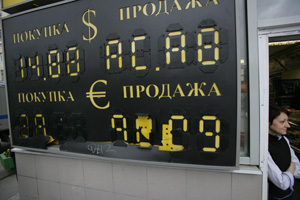 The managed currency had its biggest monthly drop versus the dollar in more than nine years in August. The five-day war with Georgia spurred investors to pull about $30 billion out of Russia, according to BNP Paribas. The dollar climbed against all the 16 major currencies Tuesday as oil's decline boosted U.S. economic prospects.
"Everything is falling against the dollar, so it's not a surprise the ruble has followed," said Bartosz Pawlowski, an emerging-markets currency strategist in London at TD Securities. "The situation with Georgia hasn't cleared enough for many investors to return to Russia just yet."

The ruble slid as low as 24.84 per dollar, the weakest level since Feb. 7, and was at 24.80 by 6:08 p.m. in Moscow, compared with 24.67 on Monday.

The U.S. currency also advanced against most of the emerging-market currencies monitored by Bloomberg and was near its highest in almost seven months versus the euro as crude oil tumbled as much as 8.7 percent. The dollar recently gained 0.7 percent to 1.45 per euro.

Russia's currency rose 0.2 percent to 36.00 per euro and was steady at 29.83 against the dollar-euro basket, which is used by the Central Bank to limit the impact of the ruble's fluctuations on the competitiveness of exports. The basket is composed of 55 cents and 45 euro cents.

TD Securities, a unit of Toronto-Dominion Bank, Canada's second-largest bank by assets, will probably reduce its forecast for the ruble's appreciation against the basket by the end of the year, Pawlowski said. Before the war, the firm predicted the currency would rise to 29 versus the basket by the end of 2008.

"Our forecast is looking increasingly unlikely," he said. "Sentiment toward Russia following the conflict has declined so much that it may take some time for investors to return."

Other analysts have also trimmed their forecasts. The ruble will gain to 29.26 versus the basket by year-end, according to the median forecast of 10 economists and currency strategists polled last week. That compares with the 29.11 median estimate of a previous survey conducted at the end of July.

Russian bonds also fell. The yield on the benchmark 7.5 percent note due in 2030 rose 5 basis points, or 0.05 percentage points, to 5.78 percent, the highest level since October. The two-year bond yielded 5.97 percent, up 7 basis points, its biggest gain since Aug. 21.
All rights reserved by Rossiyskaya Gazeta.