Putin clinches deal for Uzbek pipeline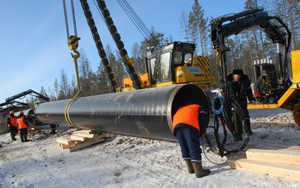 Minister Vladimir Putin on Tuesday secured agreement from Uzbekistan to start building a new gas pipeline to Russia in a deal that bolsters Moscow's sway over Central Asian energy supplies.
In the wake of Russia's war with Georgia, it also strengthens Moscow's hand with the European Union, which has been looking to secure energy supplies that bypass Russia.

Uzbek President Islam Karimov, after meeting with Putin in Tashkent on Tuesday, announced that the new pipeline would carry up to 30 billion cubic meters of gas from Turkmenistan and Uzbekistan, boosting Russian imports by 50 percent.

Gazprom will set up a joint venture with Uzbekneftegaz to construct the Uzbek leg of the pipeline along the existing transit route that begins in Turkmenistan and runs through Kazakhstan before reaching Russia, the Russian company said in a statement.

The four countries adopted a plan in May 2007 to expand that route, and Uzbekistan, which is sandwiched between Turkmenistan to the south and Kazakhstan to the north, was the first Tuesday to move ahead with the plan.

"We are interested in this both in commercial terms and as part of the responsibilities that we have as Russia's ally," Karimov said, Interfax reported.

The existing transit pipelines in the area, known as the Central Asia-Center and Central Asia-Urals pipelines, have the capacity for 54 bcm, Karimov said. Putin said Turkmen and Uzbek export potential was growing.

"We have a common interest in implementing this project," he said of the effort to expand the pipelines.

Russia, Turkmenistan and Kazakhstan plan a separate pipeline that would also take Turkmen and Kazakh gas north to Russia. That pipeline would transport 20 bcm, and construction is scheduled to start late this year or early next year, Gazprom said on its web site.

British Prime Minister Gordon Brown, who has been among the strongest European critics of Russia's military actions in Georgia, on Sunday called for an end to the "energy stranglehold" of Europe by Russia in a commentary in The Observer.

One prospect to diversify away from Russia as an energy supplier would be to insist on building the Nabucco pipeline, from Turkey through the Balkans, which would compete for resources from the same area where Russia is making progress.

With their energy exports, the Central Asian nations are making an effort to balance the geopolitical interests of the West with those of Russia and another key regional player, China. Turkmenistan and Kazakhstan have not ruled out a westward route across the Caspian Sea that would bypass Russia. Kazakhstan, Turkmenistan and Uzbekistan also entertain plans to send some of their gas eastward to China.

Russia's deal with Uzbekistan was not specifically planned to send a signal to the European Union, which issued stern warnings to Russia on Monday over its use of force in Georgia last month, said Pavel Baev, an energy expert at the International Peace Research Institute in Oslo. But it does underline the poor feasibility of the Nabucco pipeline, which has been scrambling for resources, he said.

By winning Uzbekistan's agreement on the pipeline, Russia wants to show that it makes most sense as a conduit between Central Asian energy riches and Europe, said Leonid Grigoryev, president of the Energy and Finance Institute, a Moscow think tank.

On Tuesday, Russia also approved a formula that will give Uzbekistan a "European price" for the gas that it sells to Gazprom, Putin and Gazprom said. Gazprom has yet to formulate a specific price for gas imports from Turkmenistan and Kazakhstan. It re-exports the Central Asian gas to Ukraine.

Gazprom and LUKoil, Russia's second-largest oil producer, are carrying out gas production and exploration projects in Uzbekistan. LUKoil is planning to invest $5 billion over the next seven years to bring gas production there to 12 bcm, company president Vagit Alekperov confirmed in Tashkent on Tuesday.

Uzbekistan also agreed to buy weapons from Russia and cooperate on space exploration.
All rights reserved by Rossiyskaya Gazeta.