Russia may suspend support for NATO operations in Afghanistan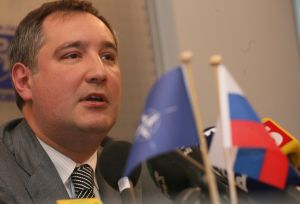 Russian President
Dmitry Medvedev
signed decrees last week
recognizing South Ossetia and Abkhazia as independent states
, saying the move was necessary to protect the republics from Georgian acts of aggression following Tbilisi's August 8 military offensive in South Ossetia.
NATO subsequently urged Russia to reverse its decision and respect Georgia's territorial integrity. Moscow blamed Western powers for encouraging Tbilisi's aggression and criticized the alliance for building up forces in the Black Sea and helping Georgia to rebuild its defenses in the conflict zone.

Speaking at a news conference at NATO headquarters in Brussels late on Wednesday, Dmitry Rogozin said "future cooperation [in Afghanistan] will depend on the alliance's position in the 'Caucasus crisis.'

"We are not satisfied either with NATO's words or actions," he said.

Russia has already suspended all peacekeeping operations with NATO for at least six months and has frozen its participation in NATO's Partnership for Peace program.

Rogozin said that Moscow so far had decided to continue supporting NATO operations in Afghanistan only because Russia was concerned by the worsening military and political situation in the Central Asian country amid an ongoing rise in extremism and drug production.

Moscow had earlier agreed to allow non-lethal goods for NATO troops in Afghanistan to pass through Russian territory.

Since the Taliban regime was overthrown in the 2001 U.S.-led campaign, Afghanistan has become the world's leading producer of heroin.

Afghanistan's opium production increased from 6,100 tons in 2006 to 8,200 tons in 2007, according to the UN. The narcotics trade has become an acute problem for Russia and the Central Asian republics due to a continual flow of illegal drugs from Afghanistan.

"We do not see any success [in NATO operations] but only a degradation of the situation in Afghanistan, and that is why Russia decided to maintain its cooperation with NATO in this area," he said.

NATO's International Security Assistance Force (ISAF) has about 53,000 troops operating in the country under a UN mandate to help give security support to the Afghan government and stop the flow of drugs from the country.

However, despite international efforts, the Taliban, ousted from power after a U.S.-led military operation in 2001, have been stepping up their activities in recent months. The radical Islamic movement has vowed to increase suicide and other attacks in order to undermine the authority of the current Afghan administration.
All rights reserved by Rossiyskaya Gazeta.