Joint declaration on South Ossetia to be signed in Moscow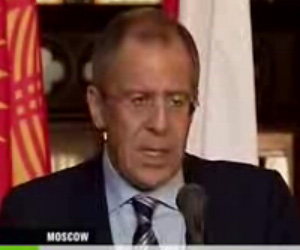 The leaders are expected to sign a declaration on their stance over South Ossetia and to discuss ways of neutralising the dangers to collective security.
The Collective Security Treaty Organisation (CSTO) which includes Russia and six of its neighbouring countries - Armenia, Belarus, Kazakhstan, Kyrgyzstan, Tajikistan and Uzbekistan - backed Russia's actions in South Ossetia and condemned Georgia's aggression in a joint statement issued on Thursday.

"The statement highlights the key points and has all the necessary verifications, including condemnation of Georgia's military actions against South Ossetia. It condemns the policy of double standards and admits the situation in the conflict zone is dangerous," said Russian Foreign Minister, Sergey Lavrov.

Russia is clearly satisfied with the support, but there is still a lot of work to be done and diplomatic talks continue on Friday at the highest level.

The CSTO member states' heads are due to meet the Russian president, and again the situation in the Caucasus is expected to top the agenda.

Meanwhile, a two-day informal meeting of EU foreign ministers which starts in Avignon, France, will focus on the situation in the Caucasus.

The summit in Avignon will examine the questions of rendering humanitarian aid to Georgia and assistance in restoring its economy. The ministers will continue to discuss starting the process of the international recognition of Abkhazia and South Ossetia. The EU FMs will also consider the effect of events in South Ossetia on relations between Russia and the EU.

The special EU summit on September 1 took a moderate stance concerning Russia. Although denouncing the recognition of South Ossetia and Abkhazia, the EU leaders refrained from taking any sanctions against Russia.

At the same time, there is a group of countries inside the EU, which continue pushing through a tough anti-Russian line. The core of the bloc includes the Baltic states, Poland and the UK.
---
Watch video on the topic here:
http://www.russiatoday.com/news/news/29953/video
All rights reserved by Rossiyskaya Gazeta.