Medvedev says state can lift markets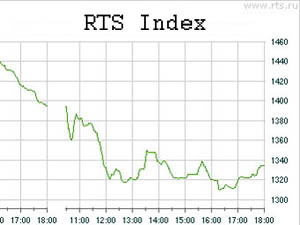 As Russian stock markets suffered a second straight disastrous day of trading Wednesday, President Dmitry Medvedev played down the drastic falls of recent months and pledged that the government would restore the markets to their levels at the beginning of the year.
Hit by the news that second-quarter economic growth fell to 7.5 percent, from 8.5 percent a quarter earlier, and a year-to-date inflation figure of 9.8 percent, the dollar-denominated RTS fell to 1,309.49 points, a two-year low, closing at 1,334.33, a fall of 4.4 percent.

The more liquid, ruble-denominated MICEX fell 3.8 percent to 1,114.67 at the close, its lowest level in 27 months.

Medvedev, whose comments in late July soothed investors after Prime Minister Vladimir Putin attacked miner Mechel over its pricing policy, sought again on Wednesday to reassure the market.

"In the end these changes are not dramatic. ... If the right decisions are made, the situation will straighten out," Medvedev said, RIA-Novosti reported. "We will return to the levels that we saw at the start of the year. In any case, I believe this is within the power of the government."

But he also appeared to try to lay the blame elsewhere, sounding a tough, anti-U.S. note.

"We cannot change the situation on the U.S. market. Let the Americans sort out their mortgage system themselves," he said. "But of course ... they have pretty much set everyone up for this."

Medvedev's words drew praise in some quarters, along with calls for the government to implement the reform agenda he set out when taking office in May.

"It's important for the government to say it cares about the market," said Roland Nash, head of research at Renaissance Capital, adding that investors were eager to see Medvedev spell out in greater detail his administration's policy agenda.

Rosneft, after falling in early trading, rebounded to finish down just 0.01 percent on the day, following comments from Finance Minister Alexei Kudrin that he would consider oil-tax cuts as long as there was no cuts to the value-added tax.

Other Russian oil stocks fared worse, however, as even a 500,000 barrels-per-day cut in OPEC production failed to give global oil prices much of a lift. On the MICEX, Surgutneftegaz fell 8.8 percent, Gazprom Neft was down 6.2 percent and LUKoil fell 5.6 percent.

Gazprom fell 2.2 percent on the MICEX to 202.74 rubles, its lowest-ever level, after the Federal Anti-Monopoly Service this week ruled that it had unfairly restricted access to its pipelines.

Banking stocks also took a further tumble Wednesday, with Sberbank falling 8.4 percent and VTB down 6.8 percent. Metals stocks followed the trend, with Severstal down 9.6 percent and Norilsk Nickel off 4.6 percent.

Government spokesman Dmitry Peskov said Wednesday that there were "no obvious reasons for the markets to continue to fall," blaming this week's losses on "emotional factors" and saying more sober sentiment would ultimately prevail.

There was a lack of consensus on the issue of tax cuts, with some analysts saying they would be well received by the market, while others warned that they could dangerously increase the economy's dependence on oil if implemented without a range of diversification measures.

"If private companies are going to develop east Siberian fields, they need to be incentivized," Nash said.

But Chris Weafer, chief strategist at UralSib, said cutting oil taxes could send the wrong signal, and end up increasing the economy's oil dependency.

"It would only be a short-term fix," Weafer said, adding that Kudrin was right to link the issues of oil taxes and VAT.

"VAT is the biggest source of tax revenue outside the natural resource sector, so cutting it would make the country more dependent on the oil industry," he said.

The only short-term measures that the government can employ to restore confidence are boosting liquidity, by investing money from the National Welfare Fund into Russian equities, and pumping money into the banking sector, Weafer said.

Such measures can work, Weafer said, pointing to the example of after Sept. 11, 2001, when central banks around the world joined up to boost liquidity.

Kingsmill Bond, chief strategist at Troika Dialog, said that if commodity prices kept falling, there was not much the government could do in the "short term to support the equity market, unless they decide to commit funds to it."
All rights reserved by Rossiyskaya Gazeta.