Medvedev vows to modernize Russia's armed forces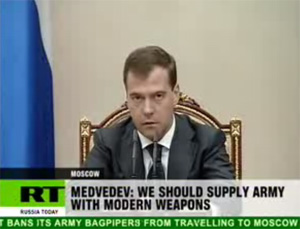 "We must now focus on rearming the armed forces with modern weaponry and do it thoroughly and consistently," Medvedev said at a meeting on the development of the Russian armed forces.
"These decisions will undoubtedly be influenced by the crisis in the Caucasus, the Georgian aggression [against S. Ossetia], and the continued militarization of Georgia," the president said.

"We need modern, effective armed forces, and this is one of the key tasks," Medvedev said.

Russia recognized Georgia's breakaway republics of Abkhazia and South Ossetia on August 26, two weeks after it had concluded its operation "to force Georgia to peace." The operation came in response to an attack by Georgian forces on South Ossetia on August 8.

So far, the only other country to also recognize the republics has been Nicaragua, although Belarus looks likely to do so later this month.

Abkhazia and South Ossetia broke away from Georgia following the collapse of the Soviet Union in the early 1990s. Thousands died in the ensuing conflicts.

Medvedev also said on Thursday that it would be more beneficial if the U.S. worked with Russia in fighting terrorism instead of developing ties with "rotten regimes".

"The Russian Federation is ready for coordinated, full-fledged cooperation in fighting terrorism together with the United States and other countries. We believe it is our main task and think it would be far more beneficial for the U.S. than developing relations with rotten regimes," Medvedev said.
---
Watch this story on video on Russia Today or here:


All rights reserved by Rossiyskaya Gazeta.