Russian bombers set to leave Venezuela in mid-Sept.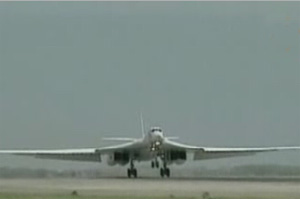 Two Russian Tu-160 Blackjack strategic bombers that landed in Venezuela on Wednesday are scheduled to return home on September 15 but will stay on if Venezuela gives its approval, Russia's Air Force said on Thursday.

The bombers landed at Venezuela's Libertador airfield late last night and during the 13-hour flight from their home base in central Russia were accompanied by NATO fighters. (Watch video)

"Their return has been scheduled for September 15," Air Force spokesman Lt. Col. Vladimir Drik said.

However, Maj.-Gen. Pavel Androsov, commander of the Air Force's strategic aviation, said the planes' return "could take place later than September 15. It all depends on Venezuela's hospitality."

During their stay in Venezuela, the bombers will conduct a number of patrol flights over neutral waters in the Pacific and the Caribbean. According to Drik, the planes are not armed with any weapons.

The Tu-160 Blackjack is a supersonic, variable-geometry heavy bomber, designed to strike strategic targets with nuclear and conventional weapons deep in continental theatres of operation.

Russia's Foreign Ministry said on Thursday that the landing of strategic bombers in Venezuela did not mean that Russia had established a military base in the South American country.

"Russia does not have military bases in Latin America," Andrei Nesterenko, a spokesman for the Foreign Ministry said. "The landing at the Venezuelan airbase was carried out in line with prior agreements between Russia and Venezuela."

Venezuelan President Hugo Chavez said on September 1 that "if Russian long-range bombers should need to land in Venezuela we would not object to that."

Androsov also said the Russian planes could used to escort the Venezuelan leader.

"We are not a commercial organization, but if they ask us and we receive proper permission, then we will give him a safe flight over the Caribbean," he said.

Russia resumed strategic bomber patrol flights over the Pacific, Atlantic and Arctic oceans last August, following an order signed by then-President Vladimir Putin. Russian bombers have since carried out more than 90 strategic patrol flights and have often been escorted by NATO planes.

The Air Force spokesman reiterated on Thursday that all Russian strategic patrols were performed in strict accordance with international rules on the use of airspace over neutral waters, without violating the borders of other states.
---
View image gallery of Russian strategic bombers

Previously on this topic: Russian strategic bombers land in Venezuela
All rights reserved by Rossiyskaya Gazeta.