South Ossetia denies it will join Russia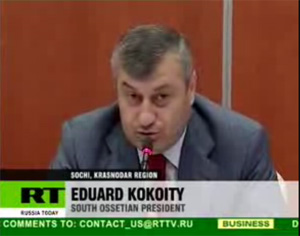 Russian foreign minister Sergey Lavrov confirmed these reports have no substance and that South Ossetia will remain an independent state.
Kokoity noted that many people in South Ossetia are talking about the possibility of joining North Ossetia within Russian borders, but added that the republic is not going to become part of Russia.

"We are not going to give up our independence which we gained by paying too high a price," the South Ossetian president assured.

But Kokoity also mentioned some Western claims promising recognition to South Ossetia earlier if it persuaded North Ossetia to secede from the Russian Federation.

"Some time ago some western political experts suggested that we persuade North Ossetia to secede from Russia. They promised to recognise us even before Kosovo if we had agreed to do it. The West would not have questioned our independence if we had united with Russia's North Ossetia into one state".

Meanwhile, Abkhazian president Sergey Bagapsh said his state is following the same line.

"We will remain an independent republic, Russia knows that perfectly well and is not going to annex our territory," he stressed.

The announcement was made at a media conference in the Black Sea port of Sochi.

Russia respects independence of former Soviet republics - Putin

Prime Minister Vladimir Putin, addressing a meeting of foreign policy experts in Sochi, said Russia won't infringe on the sovereignty of former Soviet states and doesn't have imperialist ambitions. However, he's firmly defended Russia's involvement after Georgia attacked South Ossetia.

"It was Russia that initiated the dissolution of the Soviet Union, but for Russia's position the USSR would have existed to this day. We made this decision a long time ago. We have absolutely no intention of infringing the sovereignty of former Soviet republics. On the contrary, we support it," the prime minister said.

Putin also added that there is no basis for a new Cold War with the West.
---
Read more:
Putin says no plans to make S.Ossetia part of Russia

Watch this story on video:


All rights reserved by Rossiyskaya Gazeta.