Black box data from Aeroflot crash to be analyzed in 3-4 weeks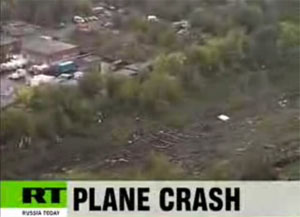 The Boeing-737-500, owned by flagship Russian carrier Aeroflot, lost contact with the control tower at around 3:15 a.m. Sunday (23:15 GMT Saturday) and crashed half an hour later on a railroad track linking Yekaterinburg and Perm.
The plane had six crew members and 82 passengers, including seven children and 21 foreign citizens from Azerbaijan, Ukraine, France, Switzerland, Latvia, the United States, Germany, Turkey and Italy.

Technical failure is seen as the most likely cause of the crash. It was previously reported that the crash could have been caused by one of the plane's engines catching fire.

Levitin, who is heading the government commission investigating the catastrophe, ruled out the possibility of a terrorist attack.

"According to the information of special services ... no signs of a terrorist attack have been found," he said.

The plane was in working order when it left Moscow.

The flight data recorders will be sent to Moscow for deciphering later Monday. The investigation into the crash will be carried out by the Interstate Aviation Committee along with the plane's manufacturers.

A spokesman for the Boeing Company said it was ready to provide the investigators with various technical tests, the data on how the plane was built and how its systems worked. It will also send its experts to Russia if necessary.

The U.S. National Transportation Safety Board said it would send its experts to Russia to study the cause of the crash, a standard practice when a U.S.-made plane crashes.
---
Read more on the topic:
http://en.rian.ru/russia/20080914/116776416.html

Watch video from Russia Today TV channel:


All rights reserved by Rossiyskaya Gazeta.