Russia & India: at crossroads in development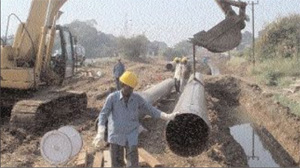 Much has been said lately about the necessity to stimulate and increase the level of Russian-Indian trade and economic relations. Actually, the trading volume of $5.3 billion, registered between the two countries by Russia's Federal Customs Service in 2007, is a meager figure for both countries, with the gross domestic product of each country amounting to over $1 trillion - especially considering the impressive scope of collaboration between the Soviet Union and India in the 1960-1980s.
There are a number of reasons for this shortfall. However, it is obvious that today the Russian companies in India, as well as the Indian companies in Russia, are pushing their way forward by participating in public tenders, gradually overcoming competition from the world's major companies. Below are numerous examples.

Russian power equipment producer Silovyie Mashiny (Power Machines) and Tekhnopromeksport company are delivering equipment and providing technical assistance for the construction of the Sipat thermal power plant in the Indian state of Chhattisgarh, Barh TPP in Bihar, and Obra TPP in Uttar Pradesh. In 2008, the Tehri hydroelectric power station was completed in Uttarakhand.
Atomstroieksport, the Russian nuclear energy export monopoly, is building two 1,000-megawatt units at the Koodankulam nuclear power plant in the Indian state of Tamil Nadu, while the Transstroi engineering company and Tsentrdorstroi construction company are involved in the construction of high quality roads in India.

The Elektrostal Heavy Engineering Plant and Tyazhpromeksport are involved in various programmes for developing India's metallurgical industry, particularly the projects of modernizing the operating metallurgical plants of SAIL (Steel Authority of India Limited).

Russia's AFK Sistema company, which owns the controlling stock (73.71%) in the Indian telecom operator Shyam Telelink, is constructing a pan-Indian transmitting network Shyam, with its launching scheduled for 2009.
A car-assembly plant in Hosur in the Indian state of Tamil Nadu, a joint venture of Russian truck maker KamAZ and India's Tatra Vectra Motors, is close to completion. The plant will produce Kamaz-6540 dump trucks of over 25 metric tons and Kamaz-5460 prime movers, with its annual output expected to reach up to 9,000 vehicles in five years.

Zarubezhneftegaz, a subsidiary of Russia's state-owned gas monopoly Gazprom, is carrying out exploration work along with GAIL (India) Ltd. in the Bay of Bengal as part of a production sharing agreement.

Russia's Stroitransgaz has completed the construction of two sections of the East-West gas pipeline in India, namely part of the Dahej-Uran pipeline in consortium.

Russia's state-controlled VTB bank launched its first operating branch in New Delhi in 2008. Sberbank, Russia's biggest savings bank, has announced its intention to open a branch in India as well.

In February 2008, a joint Russian-Indian titanium products plant was announced for construction in the Indian state of Orissa. The plant is expected to have annual production capacities of up to 40,000 metric tons of titanium dioxide, 132,000 metric tons of titanium tetrachloride, 10,000 metric tons of titanium sponge and 108,000 metric tons of titanium slag.

In November 2007, Russia's Federal Hydrogeneration Company, GidroOGK, and India's SUN Group launched a joint venture called RusSUNHydro, which intends to participate in new hydroelectric projects in India.

Similarly, Indian companies are dynamically expanding their activities on the Russian market.

According to the Russian State Statistics Service, cumulative Indian investments in the Russian economy amounted to $744.1 million as of March 31, 2008. The major investment projects include ONGC Videsh Ltd. (OVL) acquiring a 20-percent share in the Sakhalin 1 oil and gas project, ICICI bank's opening its subsidiary ICICI Bank Eurasia in Russia, TATA Motors launching a project to assemble its light-duty trucks at Russia's Urals Automobile and Motors plant (AMUR) and assembling buses at Volzhanin and Samotlor plants.

Among major projects are also the SUN group's investments into Russia's food and real-estate industries, investments by pharmaceutical companies Dr. Reddy's Laboratories Ltd and Lupin Ltd., projects by Berger Paints, and Carborundum Universal Ltd purchasing an 84-percent share in Russia's Volzhsky Abrasive Plant in the Volgograd Region.

A number of Indian companies are currently exploring opportunities for investment into the Russian economy. Among those are oil and gas companies OVL, GAIL (India) Ltd and Indian Oil Ltd, Coal of India which is involved in exploring coal deposits, petro-chemistry company Reliance Industries Ltd, and food producers TATA Coffee and TATA Tea. India's GMR Infrastructure Ltd is currently participating in a tender for the reconstruction and maintenance of St. Petersburg's Pulkovo Airport.

In January 2008, India's Rusan Pharma Ltd. and Russia's Rafarma pharmaceutical companies signed a protocol of intent to launch a joint pharmaceutical factory in India. There are plans to build a large antibiotics plant 80 kilometers from New Delhi.

Russian-Indian trade and economic relations have been dynamically developing as well. According to Russia's Federal Customs Service, during the first six months of this year, trade turnover between the two countries has shown a 29.6-percent increase as compared to the similar period of 2007, with Russian exports growing by 30.9% and imports going up by 26.4%

In 2007, machinery and technical equipment accounted for $1.64 billion, or 40.8 percent of Russia's exports to India.

Ferrous metals and related products accounted for $623 million (15.5%), wheat made up $333 million (8.3%), oil and fertilizers totaled $246.5 million (6.1%) and $170 million (4.2%) of the country's exports respectively. Overall, the goods listed amount to three fourths of Russia's exports to India.

During the first three months of 2008, considerable growth was observed in the Russian exports of optical and measurement tools, instruments and materials, with the volume increasing by 174%. The exports of electrical machinery and equipment showed 76% growth, while the fertilizers exports went up by 72%.

Exports of plastic and plastic products increased nine times over, mechanical tools and metal ware exports six times over, while the exports of organic chemistry, printed materials and aluminum increased three-fold.

Finally, the exports of transport vehicles doubled over the period.

Trade in services between Russia and India is also on the rise.

Russia's exports of services to India primarily include business, professional, technical and cargo transportation services. The imports of services to Russia are mostly comprised of the Russian tourists' flow to India and construction services. Regrettably, communication, insurance, financial and informational services account for a very small part of the trade and economic activities between the two countries.

The expansion of Russian-Indian trade and economic cooperation is boosted by the countries' policy of informing each other of mutual opportunities, improving transport, finance and banking terms for collaboration and stimulating business initiatives.

Direct contacts between Russian and Indian companies and organisations, as well as growing links between the two countries' regions also offer mighty potential for the growth of bilateral cooperation.

Governments and public organisations of both countries do a great amount of work to expand economic cooperation and trade. The Indian-Russian Intergovernmental Commission for Economic, Scientific and Cultural Cooperation and the Russian-Indian Trade and Investment Forum founded in 2007 are operating quite successfully.

The Second Forum, held in February 2008, gathered about 400 Russian and Indian businessmen, representatives of state organisations, chambers of commerce and industry and other associations. The event was crowned with a protocol and joint statement signed to launch the Russian-Indian joint working group to study the possibility of drafting a comprehensive agreement on economic cooperation. The sides also agreed to establish the Council of leading Indian and Russian company directors, to promote implementation of joint projects in both countries.

The second forum coincided with the official opening of the Year of Russia in India, which will follow with the Russian National Exhibition on November 25-28 in the EXPO-XXI exhibition hall in Greater Noida, near New Delhi.

The exhibition is expected to become a perfect opportunity for the Indians to learn more about today's Russia and its regions, which is especially significant as the year 2009 has been declared the Year of India in Russia.
All rights reserved by Rossiyskaya Gazeta.