Medvedev says sanctions against Russia 'senseless'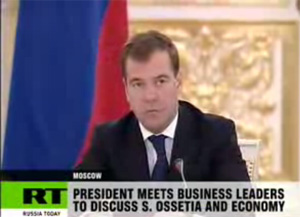 It would be "senseless" to try and pressure Russia by imposing sanctions on the country, the Russian president said on Monday during a meeting in Moscow with local businessmen.
"I believe some of the 'hotheads' who have been urging sanctions [against Russia over the Georgia crisis] are becoming aware of this," Dmitry Medvedev said.

"We do not need isolation or an arms race - this is a dead-end, the road to nowhere. We will not let ourselves be worn out like the Soviet Union. However, of course we will take all the necessary measures to strengthen our defense capacity," he said.

"If anyone tries to enforce sanctions, we realize that losses will bear a symmetrical nature," Medvedev said, adding that he did not doubt that business ties with the West would keep developing despite the current crisis.

Russia recognized South Ossetia and Abkhazia on August 26. Recognition came two weeks after the end of a Russian operation to "force Georgia to peace" following a Georgian attack on breakaway South Ossetia on August 8. Most residents of South Ossetia and another breakaway region, Abkhazia, have had Russian citizenship since the early 2000s.

Western nations strongly criticized Russia for its "disproportionate" response to Georgia's attack, and its recognition of South Ossetia and Abkhazia. So far only Nicaragua has followed suit in recognizing the rebel regions, but Belarus looks likely to do so later this month.

Abkhazia and South Ossetia broke away from Georgia following the collapse of the Soviet Union in the early 1990s amid bloody conflicts which claimed thousands of lives.
---
Watch this story on video:


All rights reserved by Rossiyskaya Gazeta.