South Ossetia puts death toll in Georgia attack at 1,700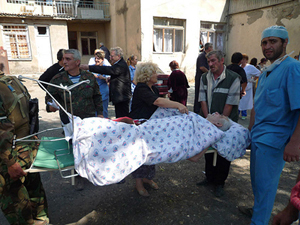 "The gathered eyewitness evidence suggests that 1,694 people fell victim to the aggression," Taimuraz Khugayev said in a Rossiiskaya Gazeta interview published Wednesday. "The circumstances of death have now been ascertained for more than 500 of them."
Khugayev told the paper those were preliminary figures: "More than 30,000 people were forced to flee the republic during the aggression. Many of them came under fire on roads. The dead were buried right on the roadside. Some were almost totally burnt in cars as they tried to escape that hell."

The death toll among South Ossetia's military and security forces stands at 32, he told the newspaper.

Georgian forces attacked South Ossetia on August 8, triggering a Russian operation to "force Georgia to peace." Many residents of South Ossetia and another breakaway region, Abkhazia, have Russian citizenship. Russia recognized South Ossetia and Abkhazia on August 26.
---
Previous articles on the topic:
South Ossetia in mourning 40 days after the war

Georgia lost up to 3,000 men in S. Ossetia conflict - source
All rights reserved by Rossiyskaya Gazeta.