Art show in a Moscow chocolate factory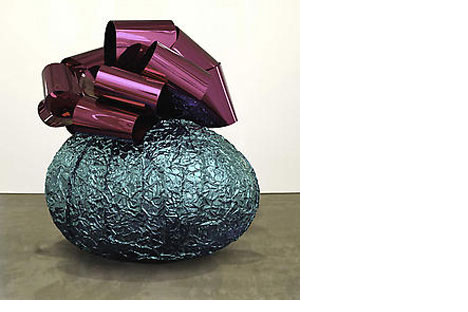 image from www.gagosian.com
The Gagosian Gallery opened its second Moscow show on September 18. One of the most prominent contemporary art galleries, it belongs to New York-based Larry Gagosian and has several exhibition spaces in the United States and abroad.
The show is titled "For what you are about to receive."
Victoria Gelfand
, director of the Gagosian showroom in London and organiser of the Moscow show, says its name should be understood this way: "Muscovites will see the best of contemporary art, sampled for an exhibition of the highest world class." Good contemporary art exhibitions are rare in Moscow, and the Gagosian show will partly fill in the gap, she hopes.
"We wanted to bring no works inferior to what is exhibited in Paris, New York and London, so this is a constellation, with
Dan Flavin
,
Lucio Fontana
,
Willem de Kooning
,
Roy Lichtenstein
,
Arshile Gorky
,
Tom Friedman
,
Ed Ruscha
,
Gerhard Richter
and others," Gelfand said in a RIA Novosti interview.
Moscow show initiator Larry Gagosian is one of the pillars of the world art market and the discoverer of
Cecily Brown
and
Damien Hirst
.
The exhibition site is highly original-the Red October chocolate factory. Show organisers say the building appeals to them as it combines the spirit of the 19th century industrial revolution and the 20th century Bolshevik revolution. Really, the factory owes its name to Bolsheviks.
When asked about how works were selected, Victoria said that exhibits combined the spirit of pure abstractionism and the readymade, and the artists were prominent developers of those trends.
Some works were made for the Moscow show, organisers say. One of them belongs to
Takashi Murakami
, Neo-Pop leader of the early 1990s and one of the best-known and most expensive artists in the world. He intends to come to Moscow for the presentation of his exhibit.
The ambitious programme includes not only the exhibition proper but also performances. New Yorker Aaron Young, for instance, performed his famous Arc Light motorcycle show for the opening. He choreographed a team of stunt riders to weave dangerously on a platform. The resulting tire-burns and skid marks created an amplified expansion of
Jackson Pollock's
action paintings.
Larry Gagosian
was rumoured to be opening an exhibition space in Moscow with this show. The organisers deny the rumour, to Muscovites' regret. Anyway, Gagosian mentioned the idea a year ago.
Some of the paintings on show are for sale.
The exhibition closes on October 25.
---
Visit
Gagosian Gallery's official website
All rights reserved by Rossiyskaya Gazeta.