Russian strategic bombers leave Venezuela for home base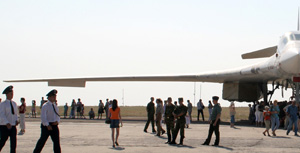 Two Russian Tu-160 Blackjack strategic bombers have left an airfield near Caracas, the capital of Venezuela, on a 15-hour flight home, a Russian Air Force spokesman said on Thursday.
The bombers arrived in Venezuela on September 10 and were accompanied by NATO fighters during the 13-hour flight from their home base in Engels, in the southern Saratov Region.

"The aircraft, which have successfully carried out a patrol mission along the South American coast, took off from an airfield in Caracas at 10:00 Moscow time [06:00 GMT] and are heading to their home base in Engels," Lt. Col. Vladimir Drik said.

The Tu-160 Blackjack is a supersonic, variable-geometry heavy bomber, designed to strike strategic targets with nuclear and conventional weapons deep in continental theaters of operation.

According to Drik, the bombers are carrying dummy missiles without warheads and their primary mission was to practice patrol sorties in a tropical climate.

Russia resumed strategic bomber patrol flights over the Pacific, Atlantic and Arctic oceans last August, following an order signed by then-president Vladimir Putin. Russian bombers have since carried out more than 90 strategic patrol flights and have often been escorted by NATO planes.

U.S. Secretary of State Condoleezza Rice said in mid-August that the Bush administration was unhappy with flights by Russian strategic bombers near U.S. borders and accused Moscow of playing a "dangerous game."

Russia has repeatedly stated, though, that all strategic patrol have been performed in strict accordance with international rules on the use of airspace over neutral waters, without violating the borders of other states.

In addition, Russia's Foreign Ministry earlier said that the landing of strategic bombers in Venezuela did not mean that Russia had established a military base in the South American country.

"Russia does not have military bases in Latin America," Andrei Nesterenko, a spokesman for the Foreign Ministry said. "The landing at the Venezuelan airbase was carried out in line with prior agreements between Russia and Venezuela."
---
Previous articles on the topic:

Russian bombers set to leave Venezuela in mid-Sept.

Russian strategic bombers land in Venezuela
All rights reserved by Rossiyskaya Gazeta.