Russia's Putin talks up interdependent global economy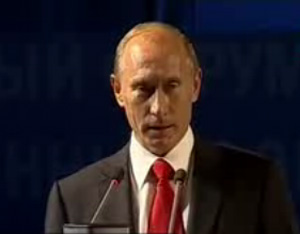 "Through mutual investments we are becoming more dependent on one another. This is a safeguard against all sorts of unpredictable developments," Vladimir Putin told an international investment forum in the Russian Black Sea resort city of Sochi.
He said Russia was on track to build a viable and self-sufficient financial system, by among other things developing the banking system and commodity exchanges, and streamlining investment tax laws.

The prime minister also urged foreign investors to shed outdated stereotypes with regard to the Russian economy, and embrace the new trends and changes that had occurred.

He said Russia's priorities included liberalization of economic institutions, promotion of competition and a business-friendly environment, achieving higher labor productivity, and cutting production costs, as well as the development of human resources and modernization of education and the public-health system.

Putin said the current focus was on attaining balanced regional development, creating new "centers of growth," and improving state administration.

He said Russia had sufficient resources to protect the national currency and its financial system.

The prime minister said Thursday that there would be "no 'closing of the market,' no mobilization model of economic development" and that Russia would not take any "politically motivated decisions in economic relations."

The Federal Financial Markets Service halted trading on the RTS and MICEX on Wednesday after share prices plummeted to their lowest levels in nearly three years amid worsening global financial troubles. When the markets opened Friday, sharp rises in share values caused short-term breaks in the day's trading.

In a move to shore up market liquidity midweek, the Russian government said it would lend up to 1.12 trillion ($44 billion) to state-controlled Sberbank, VTB and Gazprombank, the main market-making banks, which would subsequently offer loans to small and medium-sized banks.
---
Watch video on the topic:

Putin: "We can protect our economy"


All rights reserved by Rossiyskaya Gazeta.