Russian warships head across Atlantic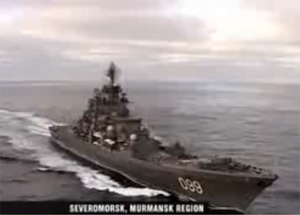 For the first time in modern history, a Russian naval squadron is making its way towards Latin America. The nuclear-powered cruiser 'Peter the Great', an anti-submarine ship and two support vessels will sail from the Arctic to the Caribbean to take part in joint manoeuvres with Venezuela.
After covering 15,000 nautical miles, in November the ships will perform several combat training tasks, including missile and artillery exercises. The exercises will give the ships an opportunity to showcase their advanced weaponry, and test out the new technology in a realistic setting.

The Russian Navy says the drill is long planned and has no political overtones.

Throughout the entire two-month mission, the 'Peter the Great' will not enter a single harbour. It's the only warship in the world capable of going without docking for this length of time.

"The Russian fleet is now extending its activity. We are not going to demonstrate any aggressive intentions. The fleet has always been and always will be a deterrent," said Igor Dygalo, a Navy spokesman.

The Caribbean voyage comes just days after two Russian bombers visited Venezuela for training flights.
---
WatchYouTube video on Russian Nothern Fleet

Watch this story on video:


All rights reserved by Rossiyskaya Gazeta.