Our homeland is being invaded... by architects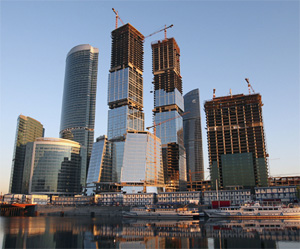 The ongoing construction boom in Russia has brought about a problem that only 10 years ago none of the experts could see coming: the country does not have enough talented architects. However, this vacuum is now being filled by a wave of foreign architects and designers.
Foreign architects started working in modern Russia back in the 1990s. At that time, however, their sphere of interests was limited to Moscow.

Some of the most conspicuous projects carried out in the Russian capital at the end of the last century with significant contribution from foreign architects include the Sovmortrans Ltd building in Rakh­manovsky Lane, designed by Austrians Patrick Leibetseder and P Habrik, and the Millennium House on Trubnaya Ulitsa, designed by British architect James McAdam.

Still, all of them were "pinpoint" projects that failed to attract broad public attention. The situation changed at the start of century when, due to Russia's rapid economic development, foreign architects were commissioned to work in a number of large cities.

Recently, such architecture "gurus" as Erick van Egeraat (the Netherlands) and Britain's Sir Norman Foster have turned to Russia.

Indeed, Foster is probably Russia's favourite architect: his ongoing projects include the Rossiya Hotel site, the Russia Tower at the Moscow City International Business Centre, reconstruction of the AS Pushkin Museum of Fine Arts, Crystal Island in Moscow, a business centre in St Petersburg's Moskovsky Prospekt, a cultural centre in the city of Vladikavkaz (in North Ossetia) and the Yugra eco-complex in Khanty Mansiisk.

However, Egeraat and Foster are definitely not the only foreign architects working here. The list includes: Eller & Eller Architekten (Germany); Wilkinson Eyre Architects (UK); RMJM (UK); Valode & Pistre (France); Behnisch, Behnisch & Partner (Germany); SWECO (Sweden); Swanke Hayden Connell Architects/SHCA (US); OMA (the Netherlands); NBBJ (US); ABB Architekten and ar.te.plan GmbH.

Why do domestic developers love foreign architects?

According to Boris Levyant, general director of ABD Architects, the growing cooperation between Russian construction companies and foreign architects and designers is due to the fact that Russian architects today are often simply unable to fully meet demand.

"There are around 12,000 architects in Russia, 3,000 of them working in Moscow or St Petersburg, with the remainder spread thin on the ground across the rest of the country," he said.

Vladimir Dyatlov, first deputy governor of the Chelyabinsk Region, suggests that "the time when we were mainly taking our projects to exhibitions abroad in search of funds for their implementation is history now. Today, Russian investors have sufficient resources to translate their ideas into practice, but have insufficient experience in the field."

He stresses that in Soviet times, there was a special architecture and town planning agency that fully met regional demand for essential buildings and structures. "However, in the 1990s, the volume of construction plummeted, and architects were forced to move into other areas of activity. Now we have to look for designers outside of the region," he says.

"Conceptually, Russian architecture was destroyed after Khrushchev, when the status of the professional architect was reduced to zero. Consider: In the 1970s, a young architect fresh out of college was offered an entry level job at 90 roubles a month, whereas a graduate of a construction institute was paid 150-180 roubles. How, then, were strong, independent professionals supposed to evolve in that environment?"

Yury Khalitov, general director of the Glav Prom Stroi construction company, agrees: "Bold ideas were buried in the corridors of construction agencies and ferroconcrete product manufacturing plants. The architects were forced to adapt to the types of products that rolled off the assembly line. Today, much has changed, but a considerable element of conservatism in their approaches is still out there."

However, development companies say that apart from a "manpower shortage" at home, construction and investment companies also have other reasons to look for architects outside of Russia.

"The principal shortcoming of Russian architects is that they are not commercially minded enough project-wise," says Dmitry Kashinsky, AFI Development project director, Stroi Inkom K.

"The developer's goal is to make a project as profitable as possible. Russian architects are more concerned with aesthetics rather than practicality."

At the same time, Erick van Egeraat suggests it would be wrong to say that Russian architects are professionally "inferior" to foreign specialists.

"There is no reason to believe that Russian designers and architects are less competent than designers and architects from France, the UK, or Germany," he says. "Obviously, the approach toward architecture differs in different countries. For example, in Germany, architects pay great attention to the technical aspect, while UK architects are extremely conservative, and sometimes even `mechanical' in their approach," he says.

"On the whole, it would probably be correct to say that Russian architects tend to go for big ideas, grand scale, monumentalism. This is part of Russian culture."

Levyant stresses that whatever "edge" Western-designed projects have over Russian ones does not apply to their level of professionalism.

"Western architects working on a project, as a rule make use of what is already in place, what is available at their studio, and there is no need for them to create anything essentially new. The main thing for them is to ensure a project's commercial effectiveness," he says.

"Once Russian designers understand that they do not have to come up with an architectural miracle every time they land a contract, they will find it considerably easier to work and compete."

Denis Gladysh, finance director of Utkina Zavod Development and a member of the St Petersburg Architectural Society, points out that foreign architects produce better results on shopping and warehouse projects, while Russian architects are very good in designing housing and office projects.

"Russian companies are encountering the greatest difficulties in designing warehouse facilities and shopping centres, primarily due to the narrow specifics and rapid technological advancement of these segments," he says. "Our architects are not very good at planning logistic and retail flows."

Ivan Kuznetsov, the press secretary of the Znak corporation (the Grand Prix project, including a world-class hippodrome), says that in implementing its projects, his company draws both on international and Russian architectural experience.

"On April 24, we announced the signing of a contract with the Paris based architectural agency Anthony Bechu & Tom Sheehan for a feasibility study on a race course as part of the Grand Prix project," he says. "On the other hand, we are closely cooperating with Russian designers - in particular, the NIiPI General Plan Scientific Research and Planning Institute of Civil Construction and Town Planning of the Moscow Region - in preparing a feasibility study and a general plan for developing 7,500 hectares of an area where Znak Corp. will implement its development projects."

However, experts point out that giving a project to architects who are best qualified to carry it out is not the only approach in Russian development practice. Indigenous construction firms increasingly hire foreign architects to develop a project concept, and then transfer that concept to Russian designers who adapt it to Russian construction and legal standards.

"DTZ mainly works with Western architects, but once a concept is there, Russian architects are brought in, who help finalise the project so that it can quickly receive the necessary approvals, licenses and permits [from Russian authorities]," Bidenko says. "Therefore, Russian and foreign architects cannot be regarded as competitors."

At the same time, Levyant notes, with this approach a Western architect as the author of a particular Russian development project only plays a figurehead role, while the main work is done for it by Russian architects.

However, he warns, many Moscow-based architects are no longer prepared to take secondary roles: "We are no longer into project adaptation: we either work as equals or we don't work at all."

Yet another sensitive issue is the level of compensation - with regard to both Russian and Western architects.

"The cost of services provided by domestic architects is lower than that of foreign contractors," Khalitov says. "But as for a regular design bureau, the difference is not too pronounced. It becomes conspicuous when big names are brought into a project, whose fees, as a general rule, are not comparable even with a Russian design bureau's annual budget."

On the other hand, Dyatlov acknowledges, amid the ongoing construction boom and architect shortage in the Chelaybinsk Region, even entry level specialists make around 150,000 roubles a month.

Andrei Marusov, director for commercial real estate at OAO Mezh regionalnaya developerskaya kompaniya [Interregional Development Company], suggests that the services of Russian architects can be priced on a par with or even higher than those of Western architects.

"This depends on each specific case, but as far as I know, all tender bids are in the same price niche," he says. "However, well known Russian architects are sometimes paid one-and-a-half to two times as much as their Western colleagues. They can dictate terms because indeed there is a shortage of talent in Russia.

"The problem is that a young architect fresh out of school can, of course, make much more - say, in the country home construction or private interior decoration segments. But that will not help him or her become a real professional who can handle serious projects. Therefore, at the start of their career, young architects are confronted with the dilemma: either big money `here and now', or good prospects and challenging projects in the future."

Representatives of virtually all construction companies are convinced that cooperation with Russian architects - that is, real professional architects - is almost preferable to developers operating in Russia.

Russian architects are more careful and attentive to the architecture of Russian cities, know more about the process of acquiring approvals, licenses and permits for construction projects, and finally are more flexible in regard to their clients' wishes.

However, developers say thus far that, unfortunately, it is far more difficult to find a good Russian architect than a good foreign one: after all, real experts who can design modern and good quality structures have orders for months ahead.

Therefore, specialists say, foreign architects are not the best possible alternative to Russian architects: it is simply that foreign designers have become a fully fledged component of the Russian construction and architectural services market where Russian designers have to compete on an equal footing.

A full version of the article, `Russian Architects face Western competition', can be found at:
http://www.mnweekly.ru/estate/20080626/55334846.html
All rights reserved by Rossiyskaya Gazeta.