Medvedev is going to strike the corruption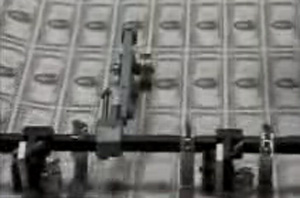 Nearly every third Russian has paid a bribe and Moscow is the most corrupt region in Russia, according to the first results of massive research on corruption being carried out by the
Public Opinion Fund
at the initiative of
Russian President Dmitry Medvedev
. After making it a campaign promise, Medvedev signed a resolution "On Measures to Combat Corruption" almost immediately after taking office and approved a multifaceted plan prepared by an interagency on July 31. Legislation under that plan will be introduced into the State Duma before the end of the month, according to
Mikhail Grishankov
, deputy chairman of the Duma Security Committee.
The Public Opinion Fund conducted research in 1920 sites in 68 regions, polling 500 respondents in every region. Fund president Alexander Oslon said that the data are still "general" and its analysis unchecked. Twenty-nine percent of respondents have given bribes. Forty-four percent of those who have not acknowledge the possibility of doing so. Entrepreneurs are the most likely to give a bribe (56%).

The most corrupt places in Russia are Moscow (42% have paid bribes), Tatarstan and Krasnodar Territory (41%), Stavropol Territory (40%), Moscow Region (37%) and St. Petersburg (34%). The least corrupt places are Perm Territory (12%) and
Tyumen Region (18%). There has been no research in Yakutia, Chechnya or Dagestan yet. Most Russians (54%) have a tolerant attitude toward those who take bribes. That figure ranges between 63 percent in Moscow and 32 percent in Sakhalin. Thirty-seven percent of Russians (55% in Leningrad Region, 30% in Moscow, 28% in Krasnodar Territory) strongly condemn corruption.

The full results of the research are expected to be published on the Public Opinion Fund website in two weeks.


---


Russia loses up to $20 billion a year as a result of corruption, the country's interior minister said on Wednesday.

"According to various estimates, the state loses between 40 billion rubles ($1.6 billion) and $20 billion to corruption," Rashid Nurgaliyev told a meeting of top law enforcement officials.

Nurgaliyev said two thirds of Russian businessmen engage in corrupt practices, and that the bribery of officials is widespread.

"Corruption today is a smoothly functioning system of the redistribution of civil servants' shadow incomes," he said, highlighting the danger of links between government bodies and the criminal world, especially when it results in property redistribution, including the seizure of enterprises by so-called corporate raiders.

The chief of Russia's top investigation committee, Alexander Bastrykin, earlier put the damage to the economy at $30 billion a year.

Nurgaliyev urged tougher punishment for corrupt officials to prevent a feeling of impunity, and more efforts to protect budget funds, above all those allocated to welfare projects and aid.

The Kremlin said on Tuesday President Dmitry Medvedev could submit a package of
anti-corruption laws to parliament by the end of this month.

Medvedev earlier declared the fight against corruption one of his presidency's priorities, saying it was "the main internal threat" facing the country. He set up an anti-corruption council in May, two weeks after his inauguration as president.

Medvedev approved a plan to counter the problem in July, proposing that special units be created in every branch of government. In line with the plan, Russian military officers, customs officials, judges and police would also have to declare their property. Proposals have also been made to establish a special disciplinary court for civil servants.

A system of incentives and safeguards for individuals who have provided reliable information about corruption, as well as ways to "encourage anti-corruption behavior" among civil servants have also been discussed.

In its 'corruption rankings' published earlier this month, Transparency International said Russia had dropped four spots to 147th place, its lowest ranking in eight years. The rights group said corruption has taken root in all spheres of life in the country, including politics, healthcare, judiciary, business and education.
All rights reserved by Rossiyskaya Gazeta.