PACE autumn session to focus on Russia-Georgia conflict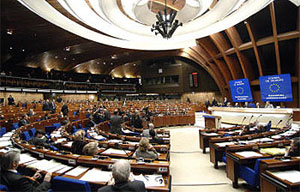 image from assembly.coe.int
A review of the powers of the Russian delegation will be held on first day of the session. The proposal to review the delegation's powers was put forward by 24 parliamentarians "on the grounds of serious violations of the basic principles of the Council of Europe" three weeks ago.
Commenting on the proposal, Konstantin Kosachyov, who heads Russia's delegation at PACE, said if a decision was made to suspend the powers of the Russian delegates, he would recommend to Moscow that it withdraws from the Council of Europe.

Luc van den Brande, PACE representative on Russia-Georgia relations, who visited Moscow last week, said it was unlikely however that the Assembly would freeze the Russian delegation's powers.

Russia has signaled that it is not going to question the powers of the new Georgian PACE delegation. The issue will also be discussed at the current session, which will last until Friday,

A report by an ad hoc committee on its fact-finding visit to Georgia and Russia will also be discussed at the session.

Moscow launched a five-day operation to "force Georgia to accept peace" after Tbilisi attacked South Ossetia on August 8 in an attempt to regain control over the republic, which split from Georgia in the early 1990s. A number of Russian peacekeepers and a reported 1,600 South Ossetian residents lost their lives during the Georgian attack.

Russia's response to the Georgian attack was labeled "disproportionate" by a number of Western powers. On August 26, Russia recognized South Ossetia and Abkhazia, another breakaway Georgian republic, as independent states. So far, only Nicaragua has followed suit.

The PACE autumn session will also address a number of other issues, including the situation in Cyprus, the honoring of obligations and commitments by Bosnia and Herzegovina and by Serbia, and the world economy.
---
VisitPACE official website

Watch this story:

All rights reserved by Rossiyskaya Gazeta.