European security a priority at Russia-Germany summit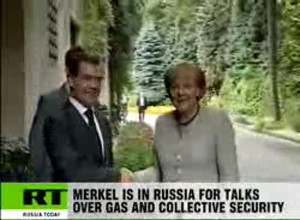 A number of issues - from the war in South Ossetia and the current economic crisis to the Nord Stream gas pipeline - are on the agenda for Thursday's meeting between the German Chancellor, Angela Merkel, and the Russian President, Dmitry Medvedev in St. Petersburg. But the main focus of the summit is expected to be a new European collective security policy.
Angela Merkel and Dmitry Medvedev will exchange views on restoring peace and stability in South Ossetia and the entire region. It is expected they will discuss the implementation of the Medvedev-Sarkozy plan agreed by the Russian and French presidents on August 12.

During the previous meeting between Angela Merkel and Dmitry Medvedev in Sochi in August, the German Chancellor was very cautious in assessing Russia's actions in the Caucasus, but did say that Russia's response was disproportionate.

Merkel and Medvedev will also discuss Russia's initiative of a new legally binding treaty on collective security in Europe, which was put forward by President Medvedev in Berlin in June. The idea of a new European collective security policy is largely a result of U.S. plans to base missile interceptors in Poland, which, according to Russia, will harm the balance of power in Europe.

Other topics include Russia's bilateral relationship with NATO and the European Union.

A number of inter-governmental meetings will also take place on the sidelines. The leaders will take part in a discussion at the Russo-German forum being held at the city's State University, where Dmitry Medvedev taught civil law for almost a decade.

The forum is taking place for the eighth time and is held every other year. This time the discussion is called "Russia and Germany in the Globalising World" and will focus on pushing the concept of "partnership for modernisation". It implies the intensification of cooperation in the economic, social and humanitarian spheres, as well as in science and technology and cross-border transport infrastructure.

Germany is the main foreign trade partner of Russia. The two countries act as leading partners in implementing large-scale pan-European scientific and technical projects. These include the construction of an x-ray laser in Hamburg on free electrons and the establishment of a European centre on investigating ions and anti-protons in Darmstadt.
---
Watch this story on video on Russia Today TV CHannel
All rights reserved by Rossiyskaya Gazeta.