Gazprom, E.On Agree to Asset Swap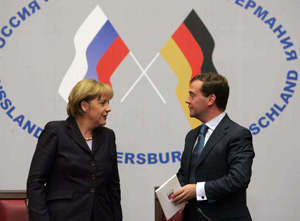 The deal was struck at the St. Petersburg Dialogue, a German-Russian forum attended by German Chancellor Angela Merkel and President Dmitry Medvedev.
E.On will take 25 percent minus one share in the license holder of the Yuzhno-Russkoye gas field, and Gazprom will get the 49 percent it doesn't own of Gerosgaz, the two companies said in a statement. Gerosgaz holds 2.93 percent of Gazprom.

E.On will join BASF, its partner on the Nord Stream pipeline, in developing Yuzhno-Russkoye, which may produce half of the capacity for Gazprom's subsea link to Germany.

E.On and Gazprom said they planned to close the deal on the field near Tomsk, in western Siberia, in the second half of next year.

BASF agreed to take a 25 percent stake in the project after giving up a share in distribution venture Wingas and swapping assets in Libya. BASF also received one privileged share in Yuzhno-Russkoye's license holder, Severneftegazprom, representing an additional 10 percent economic interest in the company without voting rights.

E.On is paying about 3.9 billion euros ($5.4 billion) for its stake in the field, more than the 1.5 billion euros that BASF spent on its interest last year, according to Bernhard Jeggle, an analyst at Landesbank Baden-Wuerttemberg in Stuttgart, who has a "buy'' recommendation on E.On.

"It's still pretty expensive," he said. "It might have been safest to keep a larger holding in the parent company rather than the field."

Gazprom expects the field to produce 25 billion cubic meters of gas per year from 2009 and Nord Stream to come on stream the following year.

Gazprom plans to build the 1,200-kilometer pipeline with partners Wintershall, E.On Ruhrgas and Gasunie of the Netherlands.

E.On will keep its direct 3.5 percent holding of Gazprom.

At Thursday's forum, Medvedev said third countries shouldn't interfere in the Nord Stream pipeline, an apparent reference to recent comments by a U.S. diplomat who called for the project to be reconsidered.

"We hope that states outside the region that have nothing to do with the project won't try to influence its progress,'' Medvedev said during talks with Merkel in St. Petersburg.

Michael Wood, the U.S. ambassador to Sweden, last month published a commentary saying Europe should consider alternatives to the project following the war in Georgia.

Despite the energy deals, strains between Germany and Russia over August's war in Georgia were evident at Thursday's forum.

"We view Russia's reaction [in Georgia] as disproportionate and said trust must be rebuilt," Merkel said.

Medvedev said the countries' partnership had survived tensions caused by the war and said they should work together to overcome the international financial crisis and redesign the U.S.-centered global economy.

"Problems connected to the [financial] crisis are paramount; the rest have stepped back," he said. "The events showed that the time of domination by one economy and one currency is irreversibly gone."
All rights reserved by Rossiyskaya Gazeta.