Court to reconsider Khodorkovsky parole on Oct. 15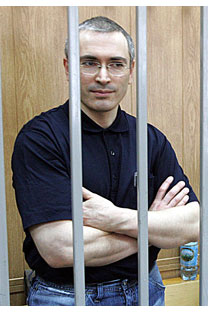 Siberia's Chita District Court will consider an appeal against a ruling to deny parole for jailed Yukos founder Mikhail Khodorkovsky on October 15, defense lawyer Semyon Rosenberg said on Friday.
Khodorkovsky, who is serving an eight-year prison term for fraud and tax evasion, appealed in September against a lower court's August 22 decision to deny him parole.

Earlier, Yury Kalinin, the head of the Federal Penitentiary Service, said that a court decision on granting parole for Khodorkovsky can only be made six months after the court's previous ruling on the issue.

Khodorkovsky, the founder of what was once the country's largest oil company, was arrested in October 2003 and convicted in May 2005. Earlier this year new charges were filed against him, accusing him of laundering $28.3 billion and stealing huge volumes of oil between 1998 and 2004.

The Yukos oil company formally ceased to exist in November 2007, after its assets were sold off through a series of liquidation auctions to meet vast creditor claims. State oil company Rosneft bought up the lion's share of the production assets, becoming Russia's largest oil producer.

Khodorkovsky, an outspoken critic of former President Vladimir Putin, has consistently denied all charges against him, saying he was punished for supporting the opposition, and that the liquidation of Yukos was engineered by corrupt government officials aiming to seize lucrative oil assets.

His parole request, filed on July 16, came after the election of President Dmitry Medvedev in March. The new pro-business leader had suggested that Khodorkovsky could eventually be pardoned, and has pledged major reforms to Russia's judiciary, aimed at creating an independent court system free of bribery and corruption.
All rights reserved by Rossiyskaya Gazeta.