Politkovskaya Case Hits Court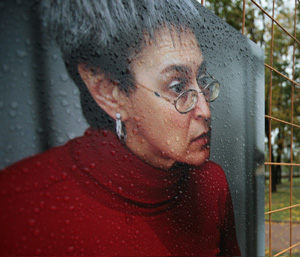 Politkovskaya, an award-winning reporter for the Novaya Gazeta, was one of the strongest critics in the media of the Kremlin's handling of the conflict in Chechnya. She was gunned down in the entrance of her apartment building in central Moscow in October 2006.
It was not immediately clear Thursday which court will hear the case.

The Investigative Committee, a semiautonomous agency within the General Prosecutor's Office, has already charged three men with Politkovskaya's murder. Two of them are ethnic Chechens, brothers Dzhabrail and Ibragim Makhmudov, and the other is a former operative in the anti-organized crime unit of the Moscow City Police Department, Sergei Khadzhikurbanov.

Investigators suspect Rustam Makhmudov, also a Chechen, who has yet to be apprehended, of acting as the triggerman in the killing and are looking for a number of other people suspected of helping plan and organize the murder.

Pavel Ryaguzov, a lieutenant colonel in the Federal Security Service, was arrested last year in connection with the crime but has been cleared.

He remains in custody awaiting trial along with Khadzhikurbanov on charges of abuse of authority, said Investigative Committee spokesman Vladimir Markin, Interfax reported.

Politkovskaya was murdered on the birthday of then-President Vladimir Putin, whom she criticized fiercely in many of her articles.

After her death, the Russian authorities came under intense fire from the international media and human rights groups.

The authorities have fired back, with an Investigative Committee official accusing exiled tycoon Boris Berezovsky of being behind the murder. Berezovsky has denied any involvement.
---
Watch more from Russia Today:

Politkovkaya knew her murderer


All rights reserved by Rossiyskaya Gazeta.