Russian troops start pullout from Georgia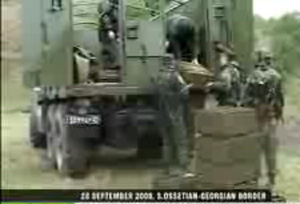 Under an EU-brokered peace deal, Russia has pledged to pull all troops out of the undisputed parts of Georgia within one month, leaving peacekeepers in South Ossetia and Abkhazia, which Moscow has recognized as independent countries. Russia has agreed to pull all its remaining peacekeepers out of the area by October 10.
Georgia's Rustavi-2 television said that more than two dozen trucks of Russian peacekeepers had crossed into Georgia's Zugdidi district from the neighboring Gali district of Abkhazia last night.

"The vehicles are intended to pull out ammunition, military hardware and other combat equipment of the Russian military from the Zugdidi district. EU observers are monitoring the dismantling of military checkpoints," Rustavi-2 reported.

Russian troops have also started to dismantle checkpoints in other parts of Georgia, the TV channel said.

Moscow launched a five-day operation to "force Georgia to accept peace" after Tbilisi attacked South Ossetia on August 8 in an attempt to regain control over the republic, which split from Georgia in the early 1990s. A number of Russian peacekeepers and a reported 1,600 South Ossetian residents lost their lives during the conflict.

Russia's response to the Georgian attack was called disproportionate by a number of Western powers. On August 26, Russia drew further criticism when it recognized South Ossetia and Abkhazia, another breakaway Georgian republic, as independent states. So far, only Nicaragua has followed suit.
---
Watch more on this story on Russia Today TV Channel
All rights reserved by Rossiyskaya Gazeta.