Russian president to promote new security treaty for Europe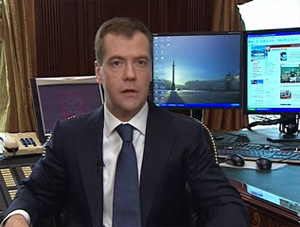 Russian President Dmitry Medvedev will address an international forum on global politics and security in France to propose the creation of a new European security system, the Kremlin website said on Tuesday.
The first annual World Policy Conference is being held at the French town of Evian on October 6-8 and has gathered global leaders, heads of states and international organizations, and leading experts on international affairs. Medvedev will deliver his address to the forum on Wednesday.

"I intend to present my vision and my ideas on solving current global problems...in Evian," Medvedev said in a video address on the Kremlin website.

The Russian president reiterated that "the former security system has become obsolete and ineffective."

"The current agreements are not reflecting the changes in the real global situation. Developments in Iraq, Kosovo, the Caucasus and Afghanistan clearly show this," he said.

"The current crisis in global politics and finances demand immediate and coordinated efforts. The time has come to come up with new solutions [to global problems]," Medvedev said.

He urged all heads of states to maintain constant contact with each other in search of a common solution to urgent global problems.

"We all need to have security guarantees and to develop mutual trust," Medvedev said.

The idea of drawing up a new legally binding European security treaty was put forward by Medvedev in June.

Medvedev said at the time that all European states should be party to such a treaty "not as states associated into blocs and alliances, but as sovereign entities."

He said any new security arrangements should be based on "pure" national interests, not skewed by ideological motives, while "organizations operating in the Euro-Atlantic region" should also have the opportunity to join.
All rights reserved by Rossiyskaya Gazeta.