Investment Banks Struggle to Adapt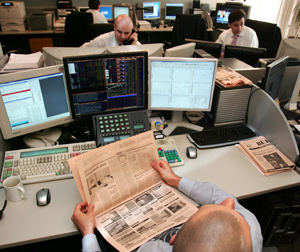 As Wall Street banking giants have fallen like dominoes, investment banks here are struggling to adapt to the rapidly changing market conditions, with a wave of consolidation and takeovers expected.
Investment banks will also have to shift away from lucrative but highly leveraged deals where they risk their own capital in a primarily consulting business model, including a greater focus on mergers and acquisitions, senior bankers said.

Already, one major name, Renaissance Capital, has leapt into the arms of a sugar-daddy billionaire, while troubled midsized player KIT Finance agreed to a takeover Wednesday by state monopolies Alrosa and Russian Railways. The sum offered was a nominal 100 rubles ($4), a source at the bank said, Interfax reported.

Other banks say they either have already laid off staff or are starting to do so.

While market players were hopeful that investment banking in the country would eventually emerge from the crisis, they said the industry would never be the same again.

"I don't think it's a good time to be an investment banker anywhere in the world, and that includes Russia," said Roland Nash, chief strategist at Renaissance Capital. "There are rumors about every single investment bank in the world at the moment, including in Russia."

With the business of initial public offerings, traditionally one of the biggest sources of income for investment banks, temporarily closed, the trading divisions in losses, and mergers and acquisitions activity on hold, many investment banks may find themselves idle.

"In the short term the capital markets are closed. Banks will concentrate on other areas, such as M&A advisory or equity and bond buybacks," said Pavel Malyi, head of investment banking for UBS in Russia, Ukraine and Kazakhstan.

"The investment bank business model will change from a heavy leverage-based [one] that relied on external financing and proprietary trading to a more client service-oriented industry model," Malyi said.

In proprietary trading, traders play with the investment bank's own money for profit, not with their clients' money, taking on any market risks to the bank's balance sheet.

These trades are typically carried out with leverage and have been responsible for high investment banking returns over the last few years, as well as for the heavy losses.

The move toward far riskier, leveraged deals is a sea change from the old-fashioned model practiced by investment banks until the late 20th century, where storied institutions such as Goldman Sachs acted mostly as trusted advisers to long-term clients.

"Some foreign investment banks may close their investment banking divisions here until business resumes in order to save costs," said a senior equity markets specialist at a Moscow investment bank. "It will be some time before it becomes clear what will happen in the U.S. financial markets and what will happen to global commodity prices. Depending on this, the outlook for emerging markets such as Russia will change."

The expert, who declined to be identified because of the sensitive market situation, said well-funded Russian banks such as state-controlled VTB could take advantage of a weakened sector to beef up their investment banking arms.

The deal that saw billionaire Mikhail Prokhorov last month pay $500 million for half of Renaissance Capital could be followed by other white-knight deals, but the prospects of other oligarchs coming in to help out liquidity-challenged investment banks may be limited, given the credit challenges that even the country's richest tycoons are facing.

Troika Dialog managing director Andrei Sharonov, a former deputy economic development and trade minister, on Monday said the country's oligarchs are more over-leveraged than is widely discussed and may not have that much bandwidth for buying up distressed assets.

Opportunities could open up for private equity firms, he said, as businesses could be going cheap as owners look to raise cash.

State-controlled Sberbank and Troika Dialog released coordinated statements last month in an effort to put a stop to snowballing rumors that Sberbank was on the verge of buying the investment bank.

Sharonov reiterated that the investment bank was not looking to sell any part of its business.

"We have been hedging our risks," Sharonov said by telephone.

Despite an influx of government money, the situation in the market has not yet eased, Sharonov said, adding that acquisitions were now likely.

"The companies that have difficulties with refinancing their debts will be letting portfolio investors in," Sharonov said. "The market is now very interesting for private equity funds, whereas big businesses are experiencing difficulties with liquidity."

Some bankers said that for the big foreign players in Russia, the situation could yield opportunities.

"In tough times, investment banks are looking for markets that have the potential for aggressive growth. From this perspective, Russia will continue to be a lucrative market," said a London-based analyst for Lehman Brothers, which after declaring bankruptcy last month handed over its Middle Eastern and European business to Japan's Nomura for a mere $2.

"There will be no retrenching from the Russian market," said the Lehman analyst, who spoke on condition of anonymity because he was not authorized to speak to the media. "We will definitely be [in Russia]."

Malyi, of UBS, said the Swiss-based bank will shut down most of its commodity trading divisions globally, and will selectively reduce staff in other areas, but he said the cuts would be fewer in Russia "as it still poses significant growth potential."

"In times of crisis foreign players often return to their home base, and it is conceivable that some of the big investment banks here will do so. However, UBS does not have such plans," Malyi said.

Job Losses

Amid swirling speculation about the level of potential job cuts, some Russian investment houses said they had started retrenching, while others insisted they had no plans to do so — and could even expand.

Sergei Babayan, a board member at MDM, said the bank was sitting on a "liquidity cushion" of over $1 billion and saw opportunities on the horizon.

"We retain our major focus on the capital markets and financing businesses," Babayan said. "We see a lot of opportunities in the future that would be concentrated in providing our clients with tailored solutions both in the debt products area and in M&A and advisory."

The bank, however, has had to cut staff, he said.

"We have restructured our research department by closing down the small equity unit ... as we do not oversee this kind of deals this and next year," Babayan said.

Brokerage Antanta Pioglobal, which recently sold its asset management business to Ivan Tyryshkin, a former president of the RTS stock exchange, has reportedly cut 70 percent of its staff, although employees could not officially comment on the issue.

While saying that Antanta will sell some of its assets, the group's general director, Yevgeny Kogan, said the group has enough money to cover its losses and meet its obligations.

Some of the biggest domestic investment banks may be way overstaffed, while big state-controlled banks such as VTB and Gazprombank are set to see their market share grow and may be looking to pick up hires from those banks cutting back, bankers said.

"Our investment bank ... is beginning to develop in the new conditions dictated by the market, which is a lot less competitive," VTB's press office said in a statement Wednesday.

VTB has no plans to make any major acquisitions but has no problems with liquidity and has no plans to lay off staff, the statement said.

Some banks said they had stopped hiring.

"We are not taking on any new employees," said Mikhail Sukhobak, head of investment banking at financial company Otkritie.

While just a matter of weeks ago human resources departments at Moscow investment banks were bewailing the dearth of qualified experts, that deficit has turned into a glut.

Sense of Camaraderie

Amid the crisis, a new attitude can be seen among the city's bankers, insiders said.

In Moscow's high-end watering holes "a bizarre sense of camaraderie" has sprung up among those involved in what many perceive to be a cutthroat industry, said one senior banker, who said he didn't want to be quoted talking about off-duty colleagues.

"Investment bank employees all of a sudden seem very attached to their jobs," said another Moscow-based investment banker, who said she wasn't allowed to speak on the record about employment issues. "Six months ago, turnover at banks such as UBS and Deutsche was very high, as people were jumping for sky-high compensation packages at other places. Now, everyone seems to be very satisfied with their jobs."

As they sought to put the best gloss on the "horrible, horrible" conditions, bankers insisted that after Russia's many crises, the sector was no stranger to turmoil and was thus well equipped to rebound.

"There is more expertise on dealing with crises in Russia than there is almost anywhere in the world," said Nash, of Renaissance Capital.
All rights reserved by Rossiyskaya Gazeta.