UN and NATO team up behind Russia's back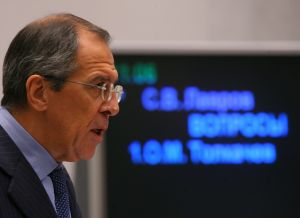 Russian Foreign Minister Sergei Lavrov said that Moscow supports the cooperation of regional organisations with the UN, but stressed the importance of making these sorts of developments more transparent.
"We knew that the UN and NATO secretariats were drawing up an agreement," he said. "And we assumed that before the signing, its draft should be shown to the member states. But it never happened."

He said that the agreement had been signed secretly during the ministerial week of the UN General Assembly.

The Russian minister said that he discussed the problem with UN Secretary General Ban Ki-moon. "I did not hear any reasonable explanations. It surprised me," said Lavrov.

The text of the agreement contains a provision on prerogatives of member states. That includes cooperation in maintaining international security on the basis of the UN Charter and certain international directives.

According to the Russian minister, decisions of that level should be made by member states, not organizations' secretariats.

"We asked the leadership of the two secretariats what it might mean. We're awaiting answers," said Lavrov.

Russia's representative in NATO, Dmitry Rogozin, said that in the document there is not a single word on the UN's leading role in ensuring stability in the world.

"NATO should fully acknowledge the UN's universal role and not try to substitute UN functions," he said.
All rights reserved by Rossiyskaya Gazeta.