Gearing Up for a Shortage Of Jobs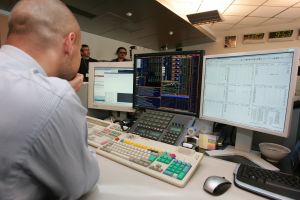 The white-collar labor market, which only a month ago faced a strong undersupply of qualified staff, making it possible for candidates to demand high salaries and compensation packages, is now turning in the other direction. As most Russian companies stop gearing for continuing growth, fewer new jobs are available, and existing jobs are becoming more valuable.
"Now it's a more favorable market for employers, and the companies that will receive the most benefits will be the Russian companies," said Tremayne Elson, managing director at Antal, a recruitment agency. "They'll be able to get a better selection of people, for cheaper."

Yelena Sidorenko, a headhunter for Staffwell, said the people facing the biggest cutbacks were specialists in equity sales and research, trading and portfolio management, while staff in other sectors may be more insulated.

The banking sector has switched from a candidate-driven market to a client-driven market in the past four to six months, said Ronald Smith, chief strategist at Alfa Bank. He said rumors of trouble at several Russian investment banks likely implied future downsizing.

When banks struggle, "there's always a good chance that there's going to be a headcount reduction," Smith said. "For the banks that survive, I think you're going to see a quality increase [in talent]."

Natalya Konovalova, spokeswoman for PIK Group, one of the country's largest residential construction companies, said that while PIK itself did not expect any layoffs, other companies in the debt-based sector might.

"There was a deficit of qualified and experienced personnel in construction over the last few years, and now if more specialists become available it may make the market more balanced," she said.

Sidorenko of Staffwell predicted it would still be several months before the job market felt the repercussions of corporate downsizing. "We are not likely to see a serious round of layoffs until early 2009," she said, and added that some sectors might escape unscathed.

Among those sectors are consumer goods, where sales are booming as ordinary Russians spend.

Josef Donhauser, general manager of Puma Russia, which began operations in Russia in 1998, said that despite the crisis, his company would still increase headcount by 20 percent in 2008 and will continue expanding staff through 2009.

"Our company, at least in Russia, is still at the stage of building up a strong organization," Donhauser said.

He said Puma Russia, as a middle-end consumer goods retailer, had been largely unaffected by the crisis. People are still "spending the money, I think, for food and clothes," he said.

Like Puma Russia, DHL Solutions will also continue to increase its regional headcount through 2009, said general manager Nore Kamoun.

He added that while the crisis might produce a more competitive work force in the short term, in the long term Russia will likely return to having an overheated labor market.

"Long term, we are still facing the same problem, where there is the demographic issue of a deceasing population and the demand [for talented labor] is bigger than the supply," he said.

Elson, the recruiter, said the crisis would likely be beneficial for Russian companies, recalling the three years following the 1998 economic crisis, when Western firms largely abandoned the Russian market and local startups had greater opportunity for development.

"Immediately after the crisis until 2001 was a golden period for Russian firms to come in," Elson said. Russian companies "saw the opportunity and took it."

Yevroset spokeswoman Natalya Aristova also cited 1998 as an historical example. "After the 1998 crisis, CEO Yevgeny Chichvarkin could afford to hire exclusively people with a higher education," Aristova said. "As a result of this crisis, a number of good people may end up looking for a job, and we will use this to our advantage."

Kamoun of DHL Solutions, however, said it was impossible to compare today's crisis with the 1998 meltdown. "Today in Russia there is a stable foundation politically and economically," Kamoun said. "I don't see Western companies [running] out of Russia."
All rights reserved by Rossiyskaya Gazeta.