Budget in Doubt as Oil Falls To $69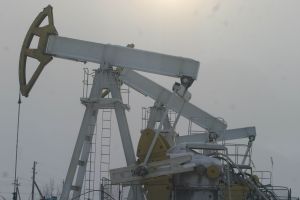 The MICEX and RTS indexes fell more than 9 percent to three-year lows Thursday as Urals Blend crude slipped below the crucial mark of $70 per barrel, casting doubts on next year's projected budget revenues.
Finance Minister Alexei Kudrin warned last month that the 2009 federal budget would have a deficit if the country's main export blend dropped below $70. The State Duma will consider the three-year budget in a key second reading Friday.

Urals for delivery Nov. 8 was trading at $69.35 on Thursday evening, the lowest level in more than a year and a drop of 2.2 percent from a day earlier. Spot prices for the blend broke through the $70 mark Wednesday.

Oil and gas exports are expected to comprise one-third of budget revenues next year. But devaluing oil puts that at risk and may force the government to tap into the Reserve Fund, which for years has been sponging up windfall taxes from energy exports, said Ronald Smith, chief strategist at Alfa Bank.

"I would expect they will cut some expenditures, but also start pulling money out of that reserve to give the economy a boost," he said, adding that the government's immense plans to build new roads, schools and power lines still need to be implemented.

The Finance Ministry is not planning any measures in reaction to the drop, including dipping into the $141 billion Reserve Fund, a spokesman said on customary condition of anonymity.

Kudrin said in August that Russia might have to begin spending the Reserve Fund in 2015 as oil prices decline. The prices of Urals crude peaked at $142.5 in July and has been falling since then on concerns of a global recession.

The decline in Russian oil stocks was led by No. 2 producer LUKoil, which finished down 16 percent. Its shares have lost more than 68 percent since May.

Other major drops in the sector were registered by Gazprom Neft, which fell 17 percent, and regional producer Tatneft, which lost more than 20 percent. Gazprom saw its market capitalization fall below $100 billion for the first time in three years as its shares lost 14 percent. It was worth 2.48 trillion rubles ($94.3 billion) on the MICEX.

Prosperity Capital Management, one of the largest international investors in Russia, did nothing to its oil assets because it viewed their prices as volatile, said Ivan Mazalov, director for oil and gas, who helps handle at least $1 billion in the stocks.

"We don't know what the oil price will be like," he said. "But this [drop below $70] of course creates an unpleasant background."

If the price stays below $70, oil companies are likely to revise their investment plans to delay some projects. Such delays could jeopardize the government's efforts to increase oil output, which has been on track to decline this year.

The company has drafted its near-term investment plans on the assumption that Urals will range from $80 to $105, LUKoil spokesman Dmitry Dolgov said. The board will meet at the end of the month to discuss the outlook, he said.

"Nobody will fully terminate investments. They will possibly slow them down," he said, referring to other oil companies. "We'll do what everybody will do."

The government has reduced taxes and export duties for the industry, offsetting the impact from the price decline, Dolgov said.

As production costs grow, major companies are able to compensate for dwindling prices by selling refined products, which enjoy higher profitability, Smith said. It might take a further drop in the crude price to make them slash expenses, he said.

But the government has also tried to lower fuel costs, and Federal Anti-Monopoly Service chief Igor Artemyev on Thursday warned that producers must cut prices for refined products or face another round of sanctions (Story, Page 5).

"The real sensitive number for the oil companies to start feeling substantial pain and start having to make serious cutbacks themselves maybe in the $55 to $60 range," he said. "But that's a guess because the tax burden is easing pretty rapidly."

The Organization of the Petroleum Exporting Countries is holding an extraordinary meeting Nov. 18 to discuss the impact of the financial crisis. Some analysts predict that the group will agree to reduce output to support the price.
All rights reserved by Rossiyskaya Gazeta.