Russia in no rush for crisis summit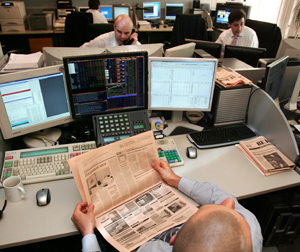 The Kremlin signaled Sunday that it was in no hurry to confirm its participation in an international summit called by U.S. and EU leaders to tackle the global financial crisis over the weekend.
The apparent reluctance to join other world leaders came as a senior government official said that unlike in the West, there was no crisis in Russia.

A Kremlin spokesman said Russia would only participate in the summit if a convenient date could be agreed upon. "All leaders have very tight schedules," he said, speaking on customary condition of anonymity. "So far, a date that would suit everybody has not been found."

Few details about the summit have been released, making it too early to say who might represent Russia if it decides to participate, said Dmitry Peskov, spokesman for Prime Minister Vladimir Putin.

U.S. President George W. Bush on Saturday called for a summit aimed at reforming the international financial system while protecting free markets. French President Nicolas Sarkozy and European Commission President Jose Manuel Barroso, who discussed the summit with Bush at his Camp David retreat on Saturday, suggested holding the summit in New York next month, after the U.S. presidential election on Nov. 4.

Moscow's lack of enthusiasm might be linked to lingering resentment that Washington threatened to derail its WTO bid and limit its contacts with the Group of Eight in response to its invasion of Georgia in August. Several Western countries sought to isolate Russia after criticizing it for its actions in preventing Georgia's breakaway region of South Ossetia from being retaken by Georgian forces.

But the senior government official indicated that Moscow's stance might be linked to a belief in the corridors of power that the financial crisis is largely a Western problem that doesn't involve Russia.

The official, who spoke Friday on condition of anonymity in order to speak more candidly, said past domestic economic debacles and current "absolutely healthy" macroeconomic indicators meant that Russia was better positioned to deal with the crisis than the United States or Europe.

"Today, there is no crisis in Russia," the official told reporters at a two-hour meeting over tea and cookies.

Russia's economy will continue to grow even under the most pessimistic scenario for next year, which sees it dipping a little under 5.5 percent, he said. By comparison, several European Union countries may struggle with negative growth, and the United States is expected to post zero growth, he said.

Merrill Lynch said in a report released Friday that Russia continued to deliver "very solid economic data" that are unlikely to deteriorate dramatically even in the event of a sudden fall in oil prices. "Russia is unlikely to slowdown below 3 percent to 4 percent in the midterm," it said.

No one is able to fathom the depth of the crisis yet, but foreign governments are only now realizing that the banking system is the backbone of the economy - a fact that Russia understood all along after its bitter experience with the 1998 default, the official said.

"Despite all its faults, the Russian financial system will survive. We'll keep hold of it," he said.

Two or three industries, including construction, will feel the squeeze later on, but they are "overheated" anyway, he said.

The government has pledged to allocate some $200 billion in loans and tax cuts, among other measures, to help banks and companies deal with the country's worst financial turmoil since 1998. Finance Minister Alexei Kudrin announced Friday that the government would spend 175 billion rubles ($6.64 billion) of its wealth fund on buying domestic shares and bonds from next week.

The senior government official declined to identify the companies that would benefit from the purchases by the National Welfare Fund, saying the list would not be made public and would only be known to brokers.

"We are getting a lot of calls" about it, he said.

Buying the shares is in line with the wealth fund's strategy, which will be announced next month, he said. The government will keep the shares for 10 to 15 years, he said.

The official also sought to allay concerns that the government would use turmoil to take over private companies.

"We don't aim to increase the share of the state in the economy," he said.

The government has bailed out four banks this month, including Bank Globex on Friday. Analysts have said the crisis could trigger a redistribution of property.

However, the government official acknowledged that Russia would suffer from a slowdown in economic growth in the West and, therefore, would see demand for oil fall. The budget for this year is balanced at $70 per barrel, and if the price falls below this level, the state might need to tap into the stabilization fund.

The upside of the current economic situation in Russia is that speculative capital has left the country, the government official said, reeling off a list of what he called positive economic indicators.

The only possible crisis in Russia involves a crisis of confidence and mistrust among banks toward one another, the official said.

He said the government was aware that countries like Ukraine had begun feeling the weight of the global liquidity crunch and would consider helping neighbors that sought support. Moscow has already extended loans to China, India, Cuba and Belarus this year, he said.

At Camp David on Saturday, Bush said world leaders needed to meet to prevent a repeat of the crisis.

"We will work to strengthen and modernize our nations' financial systems so we can help ensure that this crisis doesn't happen again," Bush said.

White House deputy press secretary Tony Fratto said in a telephone call with reporters that the timing of the November summit was largely dependent on being able to get leaders from many nations together in a short period of time, new agencies reported. He said it would not necessarily be in New York.

The summit would be the first of several concerning the crisis. The first summit would review how the countries address the crisis and try to find ways of avoiding a repetition, Bush and the two European leaders said in a statement posted on the White House web site. Later summits would seek agreement on specific steps for governments to meet those principles, they said.

Staff Writer Anatoly Medetsky contributed to this report.
All rights reserved by Rossiyskaya Gazeta.