Russia and India to strike nuclear deal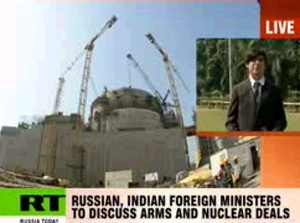 Top Russian and Indian diplomats are meeting in Delhi to discuss military ties and the construction of four nuclear reactors. Foreign Minister Sergey Lavrov is heading the Moscow delegation. The talks will pave the way for President Dmitry Medvedev's first visit to India as head of state in early December.
Government officials in Moscow say Russia and India share a common view of a multi-polar world where international law is respected and where the United Nations plays a key role.

In recent years, the two countries have successfully co-operated within the UN, the Shanghai Cooperation Organisation and BRIC - the alliance of big emerging economies that includes India, Russia, India and China.

The nations have a particularly strong relationship in defence, and India remains one of the biggest buyers of Russian arms.

Making missiles

The two countries have joined forces recently on military development through the company BrahMos Aerospace. The joint development of the BrahMos supersonic cruise missile began at the highest level with both countries' leaders involved.

BrahMos Aerospace CEO, Dr. A. Sivathanu Pillai, says the missile "is unique because it is the first supersonic cruise missile operational in multiple platforms against multiple targets; particularly in the land attack role it."

The firm is already working on improving the missile so that it can be launched mid-air.

Also in the pipeline is a hypersonic version, which can fly at up to seven times the speed of sound.

The company is confident that there will be a growing list of countries interested in buying its products.

"It is our desire to see that our missile is exported to some friendly countries. Definitely we have a list of countries who are interested," Dr Pillai said.


---
Watch this story on video on Russia Today TV Channel

Another video from Russia Today:

Worlds fastest cruise missile



Related links:

Russian cash to rescue China?

U.S. seals Indian nuclear deal after snubbing Russia

Friday's Russian Press Review

India-U.S. nuclear deal approved... but not signed
All rights reserved by Rossiyskaya Gazeta.