Putin, Wen sign off on oil pipeline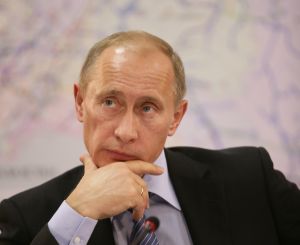 Prime minister Vladimir Putin
The leaders also discussed ways to jointly counter the global financial crisis, just three weeks before leaders from Russia, China and other countries gather for an emergency summit in Washington to grapple with the same problem.
"It's hard to find another country in the world that is our partner with such a wide range of interaction," Putin said after the talks.

The filling of the new pipeline remained a question however, as Rosneft and Transneft will have to continue talks with China's state-owned CNPC and Chinese banks for another four weeks. The companies have until Nov. 25 to sign the final long-term oil supply deal that would give the Russian companies access to large Chinese loans, said Deputy Prime Minister Igor Sechin, who oversees energy policy.

"All aspects of cooperation have been discussed in the course of negotiations with the Chinese side, including the financial ones," Sechin said, Interfax reported. "We don't have any disagreements."

The Russian companies could take out export-backed loans from Chinese banks to finance their investment, Sechin said.

"The amount of the credit will be defined depending on the cost of the projects that the companies will implement. It is considerable," Sechin said.

Rosneft spokesman Nikolai Manvelov said the company would not comment on ongoing talks. Transneft spokesman Mikhail Barkov was busy and unavailable for comment Tuesday afternoon, his secretary said.

Transneft, the national oil pipeline monopoly that would carry the oil, signed an agreement with CNPC that sets the principles of constructing and operating the oil pipeline to China. It would begin at Skovorodino, some 70 kilometers from the Chinese border, and would be an offshoot of the East Siberia-Pacific Ocean pipeline that Russia is building to supply Asian markets.

Dmitry Peskov, spokesman for Putin, denied that Russia and China were supposed to clinch the oil-for-loans deal Tuesday. "The issue is still being worked on," he said. "There was no goal to make this decision on any concrete date."

Industry sources said Monday that Russia and China would sign the deal Tuesday, Reuters reported. Under the deal, Rosneft would commit to shipping 300 million tons of oil over the next 20 years, 4 percent of China's current annual demand. Chinese banks would lend Rosneft and Transneft a total of $20 billion to $25 billion, at a time when the liquidity crunch is making borrowing harder. If the loan were agreed, Russia's state-run oil major Rosneft would get three-fifths of the funds, while state pipeline monopoly Transneft would obtain the other two-fifths.

Rosneft and CNPC apparently have yet to settle all of their points of contention, mainly the price, said Valery Nesterov, an energy analyst at Troika Dialog. Under the current supply deal that expires in 2010, Rosneft loses $5 to $7 per barrel when oil prices are high, he said. Rosneft now sends the oil by rail.

In other areas of possible cooperation, Russia and China should join forces to fight the global crisis and reform the global financial order, Wen said.

Speaking after his talks with Putin, Wen said the two had discussed an "opportunity to jointly counter a financial and economic crisis and strengthen our financial cooperation." "I think this all will be useful for the stabilization of our national economy, stabilization at the capital markets," he said in comments released by Putin's office.

Putin for his part urged China to jettison the dollar in favor of national currencies in bilateral trade.

Speaking at the Russia-China economic forum in Moscow, he said the world economy based on the dollar is "experiencing big problems," adding that both countries needed to move to "wider use of national currencies."

Putin has blamed the United States for its "irresponsibility" in letting the global crisis happen and sought to build support for the ruble in the past.

Russian and Chinese leaders are scheduled to participate in a summit in Washington on Nov. 15 that will discuss measures to stem the crisis and overhaul the world financial architecture.

In other deals, Rosatom agreed to build two more nuclear power reactors at the Tianwan Power Plant with China's State Nuclear Industry Corporation.

Russian arms maker Oboronprom and China's AVICopter signed a memorandum to jointly develop a civilian heavy helicopter. "We've had the blueprints, and they have the money," said Ilya Yakushev, a spokesman for Oboronprom, referring to China. China wants to develop and produce the helicopter, whose weight will be around 30 tons, on its own territory, said Russian Helicopters, Oboronprom's helicopter manufacturing subsidiary.

China is ready to finance the project, said the company, adding that any details were up for negotiation. The Mi-46 helicopter currently being developed in Russia could provide the basis for the new aircraft, the company said in a statement.

Russian Helicopters also signed a framework agreement to sell four older, Mi-26 heavy helicopters to China, the world's largest helicopter importer, the company said.

Anatoly Chubais, director of the State Nanotechnology Corporation, and Cao Jianlin, China's deputy science and technology minister, signed an agreement to create a strategic partnership on nanotechnologies between the two countries. Russia and China will jointly research nanotechnology and produce nano-based products in an industrial park in Suzhou, China, and later in Russia, the Russian company said in a statement.

Also at the forum, Mechel, the country's biggest coking coal producer, signed a memorandum of intent with China's state-run metals firm Minmetals aiming at establishing a long-term partnership on building and restructuring Mechel facilities, Mechel said in a statement.

Banking deals include an agreement between Gazprombank and the Export-Import Bank of China, and a framework agreement between Vneshekonombank, or VEB, and China Development Bank to jointly finance investment projects. Under the deal, Gazprombank would receive a $300 million credit line from the Export-Import Bank of China to finance Russian imports from China. VEB and China Development Bank will finance projects in energy, aviation, shipbuilding and transportation as well as eco-friendly projects, among others, the Russian bank said.

Russian Railways, which plans to cut spending next year and seek about $6 billion in loans, has asked China to join efforts to develop rail links from the Pacific Ocean to Europe, company president Vladimir Yakunin said. He said China had reacted positively to an offer to join the company's venture with Deutsche Bahn to carry out the project.
All rights reserved by Rossiyskaya Gazeta.