Mandelson: No to new cold war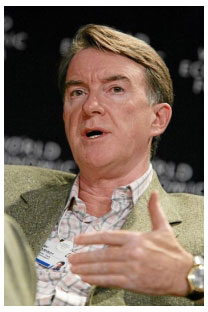 Recently-appointed British Secretary of State for Business and Enterprise and former EU trade commissioner Peter Mandelson is in Moscow with a British business delegation. He gave an interview to Kommersant correspondent Sergey Strokan, in which he urged calm in Russian-British relations and told of joint efforts to overcome the consequences of the global financial crisis. He also talked about his contacts with Russian businessman Oleg Deripaska.
You have come to Russia at a time when Russian-British relations are at a low point. What is the reason for their sharp decline?
I am the first British minister to come to Russia after a definite pause. I was recently appointed to my post and this is my first overseas visit. The situation takes on symbolic meaning. I knew Russia well when I was EU trade commissioner and was here many times. Among other things, we discussed Russia's admission to the WTO. I knew many Russian ministers then and had the opportunity to get to mix with them. That should help me today. I come with the knowledge, experience and good will I acquired in my previous post in Brussels. I hope I can make a contribution to our trade and economic relations my trying to place them on a firm basis.

The world financial crisis threatens to become an additional complicating factor in Russian-British trade and economic relations. Don't you think prospects for relations are altogether doubtful in that connection?
Of course, the world financial crisis is a common problem for us all. At the same time, in spite of the difficult economic conditions, there are no signs today that British investors are leaving Russia or changing their plans. On the contrary, the major British bank HSBC is helping the Central Bank of Russia and we are very active in various spheres of trade, from foodstuffs to car parts. A new contract has been signed for the delivery of British construction equipment for Olympic facilities in Sochi. Nanotechnology, which Anatoly Chubais's Rosnanotekh is busy with, is a particular area of cooperation. British experience can play a key role in the commercialization of Russian innovation. It can serve as a good example of what the global economy is today. The process of its internationalization is underway and the ever increasing interdependence of its various sectors is clear. In these conditions, Britain is trying to develop more active business relations with Russia, which has become an indispensable part of the world economy.
Of course, none of us have reliable protection from the consequences of the banking crisis that started in the United States and spread throughout the world economy. In spite of the high growth rate of the Russia economy, the crisis has hit it hard. The Russian stock market has fallen 75 percent since May of this year. In this situation, we should work together to find a solution. Britain has huge experience in banking. We want to offer this experience to your authorities, your banking system, to overcome this crisis.

Relations between Russia and the European Union have fallen on hard times as well as relations between Russia and Great Britain. In the article you published in Kommersant this June, you wrote that the cause of the tension between Russia and the EU was a problem with mutual perceptions. Do you see any advances in solving this problem, or is old thinking still in the fore?
In more than 15 years, we have come a long way from the old ideas of the Cold War. We should be very careful today not to let ourselves be drawn into a new cold war. Let's take Georgia as an example. After what happened in Georgia, and the understandable reaction to those events by the EU and the West, the EU and Russia came to an understanding that the problem could be solved. Now the implementation of that agreement depends on both sides. You should understand that any excessive action by the Russian Army causes deep concern in Europe and revives old fears. We have to understand that it would be hard for Russia to accept a diminution of its role in the world.
While disagreeing on political issues, we should make an effort to understand each other's motives and concerns. That is the only way to avoid dispute.

Nonetheless, what consequences could a new cold war have for the world economy that requires collective effort to save?
If we allow our political differences to have a negative impact on our economic and trade relations, the entire world economy will suffer. It is very important that Russia be represented at the very highest level at the intergovernmental meeting planned for November in the G20 format, at which multilateral actions to emerge from the crisis will be considered. I am a great supporter of that. Russia should take its rightful place in the world system and in the negotiation process on these problems. If we in the West can acknowledge the growing economic and geopolitical role of Russia and at the same time create conditions for the growth of our trade and investment, that will create a very firm basis for long-term relations between Russia and Europe.

But it's no secret that Britain is the one in the EU that favors a harsher approach to Russia.
First of all, I do not agree with the opinion that Britain is the leader in some especially harsh approach that is principally different from that of the EU. The key thing is to learn to deal with tension when it arsis in our relations. We have to acknowledge that Russia is especially sensitive about issues that concern its neighboring states and NATO's expansion plans. To the same degree, we expect Russia to acknowledge the interests and independence of its neighbors. In general, there should be mutual acknowledgment of each other's interests.

Your visit to Russia coincides with the unprecedented scandal that has broken out in Britain over your contacts with well-known Russian businessman Oleg Deripaska. I can't help but ask you. Of the enormous number of publications in the British media on that topic, do you consider them all unreliable?
I find 90 percent or more of what the British press writes inaccurate. But it doesn't worry me. Politicians should not complain about the press, as people on the open sea shouldn't complain about the weather. In my letter to The Times newspaper last week, I gave a detailed explanation of my position in the matter. In particular, I indicated that, in my previous post in the service of the European Commission, I met with a tremendous number of businessmen representing developing economies.
During our meetings, Oleg Deripaska did not offer me any favors and I did not offer him any favors. There was no conflict of interest between Mr. Deripaska and me, and the British press should acknowledge that fact.
All rights reserved by Rossiyskaya Gazeta.