Investment priorities for Russian regions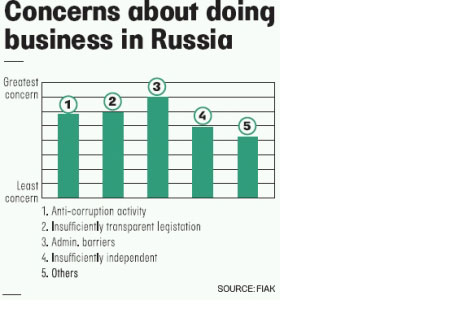 The Russian government's investment policy focuses on infrastructure development, a main prerequisite of large project implementation. It also aims to avoid hoarding money in the form of gold or currency reserves, and hopes to encourage investors.
A guide for investors

In order to improve foreign investors' views of Russia in desperate times of tight credit and panicky financial markets, the Russian government implemented a new federal law asserting government control of foreign investment in strategic sectors.

Brand new deals with foreign investors should send a clear signal that the new law is a major chance for serious investors to get more deeply involved in the Russian market.

A commission chaired by Prime Minster Vladimir Putin and run by First Deputy Prime Minister Igor Shugalov, was set up to review applications for new investment deals. In the last few weeks, the first deals were made. One of the first was between LUKoil and Archangel Investment (part of DeBeers), which will jointly develop a diamond deposit in the Archangelsk region.

Foreign companies investing in Russia are protected by national legislation and more than 50 intergovernmental agreements between Moscow and other countries. Short-term investor selection plans are determined by national development objectives.

First of all, the transport infrastructure expansion program will receive a $498 billion investment, with 40 percent coming from the federal budget.

Second, a program for expanding the energy industry through 2020 will receive a trillion dollars.

Third, there are plans to finance the development of nanotechnology, civil aviation and shipbuilding.

Russian megaprojects

The September 6-7 Yakutsk Economic Forum discussed the problems and prospects of megaprojects, due to receive more than $600 billion worth of investment.

Megaprojects aim to create huge economic regions comprising power plants and industrial production clusters for comprehensive mineral processing. The program is open to all Russian regions, though the focus is on Siberia and the Far East development plans.

Russia's Regional Development Minister, Dmitry Kozak, said the Investment Fund was currently financing 15 major projects worth $3.1 billion, and that the government had decided to support state-private projects worth over $115 billion. Six projects worth $50 billion have already been approved, including the "Comprehensive Development of South Yakutia," "Industrial Urals Polar Urals" and construction of the Moscow-St. Petersburg highway.

The Regional Development Ministry proposed a joint investment consultant, i.e. Vnesheconombank and a "One Window Service" concept, in order to facilitate transparency and reduce administrative barriers.

Zone of special attention

On September 8-11, Irkutsk hosted the Fifth Baikal Economic Forum. It focused on the need for rapid and innovative development of Siberia and the Far East, as stipulated by the regional development strategy through 2030.

In spite of potential advantages, these regions are still notorious for poor living standards. One of the forum's main topics was how to attract and assimilate skilled migrant workers. Another topic was the preservation of Siberian and Far Eastern territories.

The Russian Economic Development Ministry is ready to extend industrial assembly contracts for foreign automotive giants planning to build plants east of the Urals. Nissan would probably build an assembly plant in Komsomolsk-on-Amur soon.

A business school for Russian regions

In late September, Sochi, a major Russian Black Sea coast resort, hosted the Seventh International Investment Forum. It involved more than 8,000 delegates from 40 countries, with 58 Russian regions submitting investment proposals. Twelve Russian regions signed 66 contracts and agreements worth $12.5 billion. The Krasnodar Territory, where Sochi is located, signed 35 agreements worth more than $2 billion.

The 22nd Winter Olympics in Sochi in 2014 was also discussed, as it is a promising investment opportunity for tourist infrastructure development and the hospitality business, as well as construction.

Sochi, which now ranks third after Moscow and St. Petersburg in terms of housing starts, is expected to receive 6 to 8 million tourists annually by 2015.

Analysts said the 2008 Sochi forum was far less active than in previous years, when numerous deals were closed and intensive talks were maintained between business people and regional administrators.

This can be partly explained by the global financial crisis and confusion among foreign investors following the August 2008 Russian-Georgian conflict.

Less intensive business contacts can also be explained by the fact that the forum has accomplished its mission in facilitating direct dialogue between regional administrations and the business community.

Regions wishing to attract investment have already achieved this objective, while the remaining territories will have to modify their investment policies. The forum's next big goal will possibly be a "masterclass" for regional administrations in the area of foreign economic ties.

Remote approaches

Although the Third Far Eastern International Economic Forum in Khabarovsk is not as popular as the Sochi event, it involved 786 delegates from 18 Russian regions and 18 countries.

Khabarovsk territory Governor Viktor Ishayev said the forum had facilitated discussion of regional development issues while heeding the specifics of Russia's Far East.

The Asia-Pacific region accounts for 17 percent of Russia's trade turnover, makes up 96 percent of the Russian Far East's foreign trade turnover. There are plans to set up a contact zone in the southern Far East to strengthen Russia's economic role in North East Asia and tap into Far Eastern economic potential.

The proposed contact zone would feature processing industry enterprises, primarily in the fields of timber, metallurgy, engineering and the fuel and energy sectors.

Development of transportation corridors linking the Asia- Pacific region with Central Russia and Europe is the second aspect of the territory's longterm plan. This includes three basic transcontinental projects, including modernization of the Trans-Siberian container bridge linking Asia-Pacific countries with Europe, the trans-regional energy bridge and the transcontinental pipeline system.

Khabarovsk and Komsomolsk-on-Amur, as well as the rapidly developing Vanino, Sovetskaya Gavan and De Castri seaports, are poised to become local growth centers.

Investors may also like projects stipulating the creation of Pacific ports, as well as many other industrial and energy-related projects under the program for developing Russia's Far East and the Trans-Baikal Area through 2013.
All rights reserved by Rossiyskaya Gazeta.