...in an endeavour to achieve milestones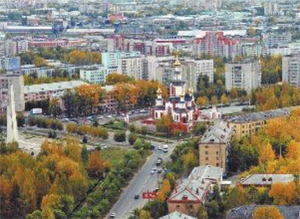 In time of the Russian National Exhibition in India, Kirov region is going to present to the Indian business community unique developments in the field of new high-tech production techniques. The regional administration is looking at India as a potential partner.
India has a long-standing friendship with the Kirov region. Kirov supplies India with petrochemical goods (inorganic chemistry products, teflon, plastic and plastic articles), engineering products (electrical machinery and equipment, optical instruments, devices for self-operated and regulatory control), copper and copper articles. Imports from India are mostly made up of petrochemical products: organic compounds; caoutchouc, rubber, caoutchouc and rubber articles.

The Kirov region has sound scientific potential and the infrastructure for development of these technologies and regards India as one of its most prospective partners.

Around one year ago the Governor of Kirov region, Nikolai Shaklein, approved measures that will broaden economic cooperation as well as cultural and business ties established in Kirov region, during the National Exhibition in Delhi.

According to the Governor, who heads the Kirov region delegation, the focus is on demonstrating original new technology developments at the exhibition. Companies which participate in the event have been afforded state support in the form of partial subsidies of exhibition costs from the regional budget.

Kirov technology developments on display includes high-tech veterinary devices produced by ZAO Farmaks, high-performance radial method of wire production from OAO Avtoritm and hybrid technologies of high-precision plasma-assisted laser processing and welding from OOO Vyatka machine building enterprise Laser technology. OOO `Polymer Plant of the Kirov-Chepets chemical complex', which presented unique fluoroplastic, oxygen-containing fluorinated compounds, flurorubber etc. production technologies, also has every prospect of success.

The Kirov delegation hopes to establish close science and technology links with India, and develop joint projects. This is especially poignant, as the region's government is actively engaged in seeking out new approaches to the development of investment activity. In certain aspects, the new legal framework of the Kirov region is more advanced than that of the rest of Russia.

Today, firms from 80 countries, including India, France, Germany, Poland, Finland and China, have become partners of its enterprises.

It is of course no coincidence that investors are paying such attention to the Kirov region. For several years now, the regional government has tried its utmost to improve the local investment climate. It has succeeded in building a system of state support for private investors, based on a package of laws concerning investment activity.

State support of investment projects is thus actively seen at every stage of implementation - from the development of a business plan to marketing the finished product.

Last year, we began to build a brick factory which will produce up to 40 million ceramic wall bricks a year. That will not only be sufficient for the Kirov region, but also be enough for supplying neighbouring regions of Russia. The Kirov-Chepets brick factory production facilities will be among the most advanced in Russia.

The project is very important for the Government of Kirov region. It has decided to provide state support for the enterprise, subsidising part of the interest rates paid on loans. It is planned that the factory will reach full capacity by Spring 2009. The project, has achieved interregional status.

Recently, a top Russian construction industry officials Nikolai Koshman (The President of the Russian Builders' Association) and Sergei Nikitin (Vice-President of the Russian Builders' Association), visited the Kirov region. Long-term cooperation was discussed with the Governor of Kirov region, Nikolai Shaklei

Such cooperation implies the building of three new construction industry facilities in the region. It has been agreed to create new brick, foam-glass and beamless constructions of residential mono-block units in the Kirov region, using new technologies and the most advanced scientific achievements from Russia and all over the world.
All rights reserved by Rossiyskaya Gazeta.