The Republic of Udmurtia, the industrial shield of Russia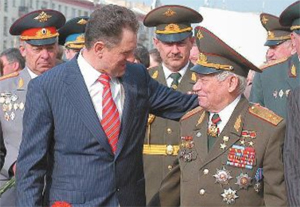 M.Kalashnikov, the famous small-arms designer
When asked what Udmurtia is famous for, an outsider will first think of the Kalashnikov assault rifles, cars and motorcycles. The weapons produced in Izhevsk are still up to the best international standards. However, weapons are just a part of what Udmurtia is all about.
Udmurtia, a land of thousand silver springs and woods - is ideally located in the picturesque parts between the Kama and the Viatka rivers, in the heart of Russia. The republic's capital, the city of Izhevsk, was founded on April 10, 1760 by count Peter Shuvalov. The Republic is the birthplace of the world-wide known Russian composer Peter Tchaikovsky who was born and spent most of his childhood in the city of Votkinsk; the legendary small arms designer Mikhail Kalashnikov lives and works in Izhevsk.

The Udmurt Republic is one of the most dynamically developing regions in the Russian Federation. Its economy is highly diversified, Udmurtia possesses a huge industrial potential and highly qualified workforce, well-developed agro- and construction industries, abundant natural resources, and dynamically developing financial, science and technologic systems. In 2007, foreign trade turnover of the Republic amounted to $ 1.052 bn.

In Russia and far beyond, people know the products of Izhevsk's radio factory and mechanical works. OAO Izhstal, the oldest factory in the Republic of Udmurtia and one of Russia's leading steelmakers, retains a strong position in the market of stainless steel products and special steel grades, with its products having the world's highest quality standards.

As part of the international project for construction of a pilot nuclear fusion reactor (ITER), the Chepetsky Mechanical Plant is preparing for production of superconducting materials based on NbTi alloy and Nb3Sn compound. Eventually, it will implement a complete superconductor production cycle, from input materials to ready wires with specific technical characteristics.

Today, Udmurtia has more than 300 factories and plants, most of which are equipped with modern machinery and employ highly skilled workers. It also has a significant science and technology potential for the development of the nanoindustry. Business incubators were launched in Izhevsk and Glazov to offer good conditions for the implementation of innovation business plans.

Udmurtia holds a leading position in the Russian market for several kinds of consumer goods. The Republic manufactures 80 % of Russian sporting and hunting guns and 67 % of Russian motorcycles and accounts for a major share in the country's total output of radio and medical equipment. More than a quarter of Udmurtia's products are exported to 96 countries around the world.

Medium-size and big business development has benefited from growth in the machine building sector and oil and gas industries and from the availability of an extensive communications infrastructure, highways, railways and airports, a solid banking system, and social stability. There is also a highly developed small business sector. According to statistics, about 15,500 business enterprises were registered in Udmurtia in 2008.

For several decades, Udmurtia was closed to foreigners. In recent years, Udmurtia has substantially improved its investment appeal. Due to Udmurtia's well-developed market infrastructure, strong technology market and extensive research and development potential, the republic has a good investment climate and business opportunities for foreign investors.

In order to provide informational support to investors, a State Register of investment projects in the Udmurt Republic is maintained, an interactive Internet site providing information on investments has been established.

For long, international and Russian companies have been investing in automobile manufacturing and the oil and defense industries. A new investment horizon is now emerging with the rapid advance of Udmurtia's IT market.

At the end of September, Moody's Investor Service assigned to the Republic of Udmurtia a Ba1 foreign and domestic currency debt rating, assessing its outlook as stable.

According to Alexander Proklov, Moody's senior analyst, these ratings are underpinned by a record of many years of budgetary discipline.
---
Related links:

The government of Udmurtia
All rights reserved by Rossiyskaya Gazeta.