Volgograd seek private Indian investment in the region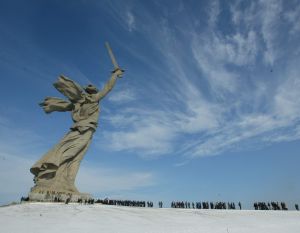 "India and Volgograd share a legendary relationship which dates back to 1967, an agreement between Government of Madras and Volgograd marked the initiation of series of commerce exchanges. These exchanges can now be further augmented with exploring modes of cooperation in the culture, education and trade areas," said H.E. Mr. Sizov Y.I., First Deputy Governor of Volgograd Region.
Speaking at Business Meeting with H.E. Mr. Sizov Y.I., First Deputy Governor of Volgograd Region and the accompanying business delegation, organized jointly by Carborundum Universal Ltd (CUMI) and Confederation of Indian Industry (CII), he strongly pitched for oil & gas, agriculture & fertilizers, food processing, construction as promising investment ventures. `Our medical universities have been enrolling Indian students and we expect that this exchange should be broadened with private Indian enterprises indulging in investment avenues in the region. Business is strictly protected with regional legislations' he added.

Volgograd has been actively considering Indian private sector's investments in the region. Reflecting trade optimism in the region, a business delegation from Volgograd has been carried to New Delhi.

Earlier delivering the welcome address, Mr. M.M. Murugappan, Chairman, Carborandum Universal Ltd. said, "Volgograd region reflects dynamism and an optimistic attitude towards private investments. We have received tremendous support from the regional administration following our investment in Volzhsky Abrasive works in Volgograd. We view it as a strategic investment as the region provides us a competitive edge. We are willing to offer possible assistance to Indian enterprises which are willing to invest in the region."

Paving way for one on one interaction with his vote of thanks, Mr. K Srinivasan, Managing Director, Carborandum Universal Ltd., said, `the opportunities in the Russian Federation are greatly undersold . The current Indina interest in Russia is restricted to defence, nuclear and heavy industries . It is the time for Indian private entities to work in the region. This is an interesting phase in the global scenario wherein India and Russia are seen as must-to-invest destinations. We are willing to host at Volgograd a meet for Indian corporations eager to foray in the region."

Volgograd region is situated at the south of European part of Russia, has been a spiritual, economic and cultural link between the east and west. Reflecting positive investment opportunities, Standards and Poor has rated the region with stable long term credit rating.
All rights reserved by Rossiyskaya Gazeta.