Fast tracking Formula One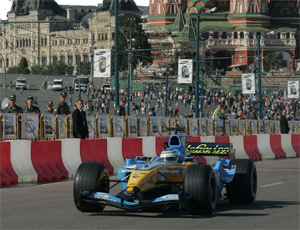 A ground-breaking ceremony for the Moscow Raceway, a world-class motor racing stadium, took place in the Moscow area on October 1, 2008. The project, worth £120m, was initiated by Russian and foreign private investors.

Construction of a Grand Prix circuit in Russia has been discussed for some time, with various areas outside Moscow and St Petersburg vying with each other as a site for the proposed racetrack.

The multifunctional racetrack, to be completed in 2010, will be 77 kilometres outside Moscow at the Novorizhskoye Highway. The new sport facility will be entirely private-financed. The track is being designed by Formula One's chief architect Hermann Tilke, who also designed circuits in Austria, Malaysia, Bahrain, Singapore, Spain, China and Turkey. Tilke says the distinctive feature of the Russian circuit is the rolling hills landscape with the elevation gradient up to 22 metres. "I was invited to visit the Moscow region three years ago to choose a venue for a future track. I was very pleased when we found this area. It is hilly terrain overgrown with forests, and it looks very attractive. The circuit has different stretches, each with its unique character. It has a technical stretch, sharp turns and a long straight stretch - all that it takes."

The project manager, Hans Geist (former general manager of A1-Ring in Austria and the Bahrain circuit) believes the project's success hinges on its universality and future projects.

"The circuit will get approval for all types of races and we already dream of bringing Formula One here," said Geist. "In the meantime we are planning to have world-class races. The first races may take place here as early as June 2010."

The Moscow Raceway circuit will be awarded FIA1T rating which entitles it to handle races of any level, from Formula One to international car and motorcycling championships.

On completion the track will be ready to host a round of the German touring car series DTM and a round of Moto GP, with the next target being the first Russian Formula One Grand Prix. The ground-breaking ceremony was attended by Formula One star David Coulthard, who said he was glad to witness the launch of the project: "I have never raced in Russia, but I can see a Grand Prix coming to this circuit some day. I have looked at the project and talked to the people who are doing it and I have no doubt that it will be a venue that meets world standards. I am ready to come here in 2010 to look at the course with a driver's eyes."

The Moscow Raceway is being built by a world-class team of professionals. At the construction stage the project is being managed by the German company Drees & Sommer Project Management. The main road-building partner is Strabag International (Germany), and the noted Russian race car driver Sergei Krylov is an adviser to the project.

The organisers hope to host a range of events: Formula One, Moto GP, WTCC, DTM, Formula Three, national championship races and, on free days, motorcycle races for all comers. There will be a racing academy, a defensive driving school and an excellent test course for car-makers.
---
Enjoy the race

The configuration of the Moscow Raceway could make it one of the most challenging circuits in the world. It will boast difficult U-turns, high-speed bends and a long home stretch. The Moscow Raceway will thus offer drivers a chance for uncompromising wheel-to-wheel racing, sharp climbs and descents, technically challenging stretches and a maximum speed of more than 310 kmh (for Formula One cars). For spectators, the circuit will be one of a kind: from their seats they will be able to see not just a small section of the track, but at least half of the circuit.

The complex will have a restaurant, a paddock, conference halls, media centre, pits, medical centre, race control tower and VIP boxes. The main covered stand will seat 10,000 people, with the total number of guests reaching 100,000 at any one time. The increased flow of tourists, contestants and visitors to other events at the complex is expected to generate a hefty $100m a year in profits.
All rights reserved by Rossiyskaya Gazeta.