Count Stroganov's bequest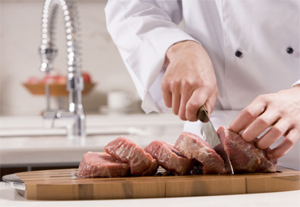 The origins of most Russian foods are lost in the mists of time. When was the first pirozhok invented, and by whom? Who decided beets, potatoes and about 20 other vegetables would make a tasty red soup that goes great with sour cream, and why did they call it borscht?
Most (though not all) sources, however, agree on the origins of beef stroganoff, one of the few Russian dishes that has crossed the cultural divide and is served the world over. In the 19th century lived a certain Count Alexander Grigorievich Stroganov, a man of no small accomplishments. The last of the ancient Stroganov line, the count was a founder of banks and universities, the Governor-General of the Novorossiisk region and a remarkably vigorous man - he lived to be 96 years old. He was also fond of living large, especially when it came to receiving guests. As the story goes, he ordered his servants to feed anyone setting foot on his territory, whether he was present or not. Faced with the need for a dish that was quickly prepared, filling and tasty, the count's chefs (who, if not French, were likely to have been influenced by French gastronomy, like most Russian chefs at the time) put their heads together and came up with what eventually became known as beef stroganoff.

After the fall of imperial Russia, immigrants brought the dish to all corners of the world. It was especially popular in China, which was a preferred destination for Russians fleeing the Communist regime. A version made it to the United States, and the dish also became prized in Australia, Portugal and Brazil, where it spawned a fast food chain. Here's a quick and easy recipe for a basic beef stroganoff.

Ingredients

o 500 grams beef

o 2 onions

o 3/4 cup sour cream

o 1 tablespoon flour

o 2 tablespoons tomato sauce

o salt, pepper (to taste)

Preparation

1. Wash the meat, lay on a cutting board, then beat with a meat tenderizer

2. Once beef is tender, cut into strips

3. Finely dice onion, place in a pan and saute in oil for 2-3 minutes

4. When onions turn a golden brown, add meat, salt and pepper

5. Fry meat over a high flame for 5-6 minutes, stirring periodically

6. Lower flame, cover pan and let simmer for 5-7 minutes

7. After turning up heat once again, add flour, stir, and fry another 2-3 minutes

8. Add sour cream, stir and bring to a boil

9. Add tomato sauce, lower flame, cover pan and let simmer for 2-3 minutes until ready

Serve over noodles or rice, or with fried potatoes on the side.
All rights reserved by Rossiyskaya Gazeta.