Moscow has no wish to `divide and rule'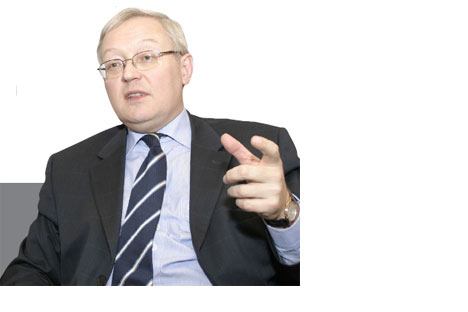 Deputy Foreign Minister Sergey Ryabkov talks to Rossiyskaya Gazeta 's correspondent Vladislav Vorobyev about the Russian approaches to foreign policy challenges in a dynamically changing world.
RBTH dossier
Sergey Ryabkov was born in 1960. He graduated from the Moscow State Institute of International Relations in 1982. From 1995 to 1999 he was head of the OSCE Section, Department of European Multilateral Co-operation of the Russian Ministry of Foreign Affairs. In 1999-2002 he was senior counsellor of the Russian Embassy in the United States of America; 2002-2005, deputy chief of mission of the same Embassy; from 2005 to 2008. director of the Department of European Multilateral Cooperation of the Russian MFA.
In August 2008 he was appointed Deputy Foreign Minister of the Russian Federation. His portfolio at the Russian MFA includes bilateral relations with countries both in South and North America, Russia's participation in the G8 activities, disarmament and nuclear non-proliferation issues. He also co-chairs the Russian-American Working Group on Strategic Dialogue. Sergey Ryabkov is married with two children.
---
We chat over tea in the Deputy Minister's small, comfortable office. Outside the temperature is above zero, unusually warm for Moscow in November, and we use the word "freeze" only with regard to global politics. So why is returning to the days of the Cold War now impossible? Because, says Ryabkov, the ideology that generated the Cold War no longer exists.

"I would define the present stage as a transition one towards a different world order, where it's already difficult to speak about a bipolar world, not to mention a unipolar world. This new world order is much more complex than those algorithms of international conduct, that are customary for our generation and are based on the binary code `us and them'. Numerous centres of influence are emerging. But at the same time this provides new additional opportunities for every country to realize its own potential."

Russian diplomats undoubtedly have no intention of being merely impartial observers of this process.

"Our main goal now is to introduce philosophy of Russian foreign policy into the area of international relations - the philosophy of equal rights and consideration of all countries' interests. It fully applies to the area of international security as well. The alpha and omega of Russia's foreign policy is a collective approach to solving any problem, and I totally disagree with those, who try to define our foreign policy as inclining towards unilateralism or actions that ignore interests of others."

As to the reports in the Western mass media about Moscow's attempts to drive a wedge between Europe and the US and to create clubs with shared interests by actively using difference in opinions for that purpose, Ryabkov is very sceptical.

"Even if we have the divide and rule principle on our mind, we're not so naive as to develop any schemes on that basis. Because nobody can fire up a real quarrel between North America and Europe. And if our partners feel that Russia is really after this, it would do nothing but unite them. In other words, inciting Europe and the US against each other would only harm ourselves. If each country doesn't have some sort of fundamental national interest which dictates its position, we'd never achieve anything. And incidentally, behind the scenes there's always a rather curious debate about who's joining forces with whom, when, and on what issues."

There's another issue that is equally interesting - the US plans to deploy elements of its anti-missile systems in Eastern Europe. It is well known that Russia is firmly against this, while Europe prefers not to get too involved in an argument between Washington and Moscow, even though Ryabkov is convinced that these US plans directly affect the security of the whole European continent. The Deputy Foreign Minister heads up the Russian side of the Russian-American working group on strategic dialogue. The members of this group are expected to meet in December to discuss a list of proposals that the US State Department handed to the Russian Foreign Ministry at the beginning of November.

Back in the spring of this year US Secretary of State Condoleezza Rice had talks with Russian Foreign Minister Sergey Lavrov on how to minimize Moscow's concerns regarding deployment of these anti-missile systems in Eastern Europe, which Russia views as a threat to its national security. Also present at the meeting were Russia's Defence Minister Anatoliy Serdyukov and Robert Gates, head of the Pentagon. The US side promised to put on paper proposals they had aired during the talks, but this promise was only fulfilled in November. Now that we're only weeks away from a new US Administration, it's quite reasonable to ask: are these proposals still relevant and whether it's worthwhile giving them a thoughtful consideration.

Ryabkov believes it is worthwhile. "I suspect that a good deal of these proposals by the outgoing administration will be maintained in one way or another. There may be some developments or additions, but the core of the American position will stay the same. Therefore there is no sense in simply wasting time or burying our heads in the sand. While setting ourselves to work with the new US administration, it is necessary to continue cooperation with the outgoing one."
All rights reserved by Rossiyskaya Gazeta.