Lavrov pushes trade with Europe, U.S.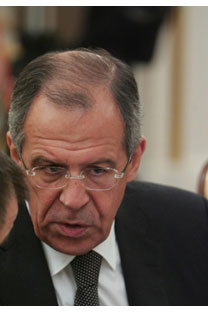 "A common economic space formed from the European Union, Russia and the United States is far from being a virtual project, and it would be possible to work on that," Lavrov told a conference of the Association of European Business.
Lavrov also said that despite the global economic crisis, joining the World Trade Organization remained a priority for the government and was "one of the preconditions for improving the structure of our foreign trade and GDP."

He repeated the Kremlin's position that Moscow would only join if it deemed the conditions satisfactory.

Lavrov said WTO membership was also among the preconditions for a new cooperation agreement with the EU, negotiations for which started in earnest recently.

Mark Franco, head of the EU delegation to Moscow, said in an interview that a common economic space mainly meant an alignment of trade legislation and that the subject had been discussed between Brussels and Moscow for several years, most recently at a November EU-Russia summit in Nice.

"It requires lot of technical work and [Russia's] WTO membership," he said.

Moscow's ambition to join the WTO has lately been hampered by U.S. opposition after Russia's brief war with Georgia in August. Moscow has accused the United States of tacitly supporting the Georgian government's decision to try to take back its separatist region of South Ossetia by force in August.

Lavrov said that while Russian-European relations had emerged unscathed from the Georgia war, the West should not advance into former Soviet republics at Moscow's expense.

U.S. and EU relations with former Soviet republics should be "legal, understandable and transparent," Lavrov said. "Behind-the-scenes meddling only creates a crisis situation."

Lavrov said Russia has no monopoly on relations with Central Asia or the South Caucasus.

He reiterated that Moscow hoped for improved relations with Washington after the inauguration of President-elect Barack Obama.

"Obama says that the U.S. and Russia must work together to solve the biggest global risks, like international terrorism. ... We are prepared to work with him closely on an equal and mutually beneficial basis," he said.

Addressing visas, Lavrov said Moscow was prepared to create a visa-free regime with the EU "today" if the Europeans were ready.

Franco said this was also part of ongoing negotiations, but Moscow still had to meet several conditions, including "confidence in [Russian] travel documents" and improved police cooperation.
All rights reserved by Rossiyskaya Gazeta.