Official backtracks on 'recession' comment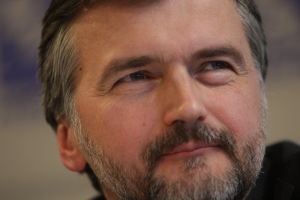 "The recession has already begun and, I'm afraid, it won't end in two quarters," Klepach said, Interfax reported. The term "recession" commonly refers to two consecutive quarters of negative growth.
Fourth quarter gross domestic product will grow by 2.6 percent and GDP growth for the year will be around 6 percent, almost 1 percent less than the previous Economic Development ministry forecast of 6.8 percent to 6.9 percent, Klepach said.

Klepach later clarified his use of the word "recession," saying he only meant that Russia had entered a period of slower, not negative, growth.

Prime Minister Vladimir Putin on Friday emphasized that the economy would grow at 6 percent in 2008, and the Kremlin's press service issued a statement asking journalists to focus on Putin's words instead of Klepach's.

"I am sure our economy is solid enough to weather the period of instability," Putin said. He later admitted concern, however, over new data showing that the unemployment rate rose to 6.1 percent in October, or 4.6 million jobless people, increasing by 372,000 from October 2007.

Although Russia is not technically in recession, it is clearly in an environment of much slower growth, economists say.

Earlier this week, the State Statistics Service released data showing that Russia's GDP growth had slowed to 6.2 percent in the third quarter of 2008, a three-year low, and was 1 percent lower than an earlier forecast by the Economic Development Ministry.

The economy grew by 8.5 percent and 7.5 percent in the first an second quarters of 2008, respectively.

A poor fourth quarter in 2008 will stand in sharp contrast to last year, when the economy grew at 9.8 percent in the last quarter, with December posting sky-high growth of 11 percent, and overall 2007 GDP growth standing at 8.1 percent. But economists say the worst will only materialize in the first half of 2009.

"It will get a lot worse in the first and second quarters of 2009," said Chris Weafer, chief strategist at UralSib. "Russia might technically avoid negative GDP growth because of large government spending, but adjusted for this spending, the rest of the economy will see negative growth."

"GDP growth in the fourth quarter will be zero if both November and December show a contraction of 3 percent," said Yekaterina Malofeyeva, chief economist at Renaissance Capital. She expects fourth quarter GDP to be flat or slightly positive.

"Growth may resume after the second quarter of 2009, as the Central Bank's policy of ruble devaluation helps exporters and imports fall, boosting domestic producers," Malofeyeva said.

Falling commodity prices suggest that Russia could soon face its first trade deficit in 10 years, with the October trade surplus hitting a 13-month low and Urals futures for December delivery closing at $42.6 per barrel on the RTS on Friday.
All rights reserved by Rossiyskaya Gazeta.