A Siberian girl is named Miss World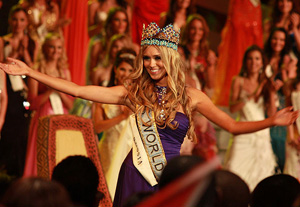 Although she competed with girls from 112 countries, Ksenia was considered one of the strongest contestants from the start.
The beauty queen dreamt of becoming a biathlon champion
The most beautiful girl in the world was born in Nizhnevartovsk, Siberia on August 26, 1987. In school she achieved all As and Bs; teachers remembered her as very well-brought-up and an outstanding pupil. Ksenia was also very athletic: she was an adult-class biathlonist and dreamed of becoming a champion. Her other specialties included swimming, gymnastics, ballroom dancing and track and field.
After high school graduation, Ksenia entered Tyumen Oil and Gas University. She became a fashion model and soon won the title of Miss Tyumen, which did not go unnoticed. Point, a top modeling agency, offered her work. Her measurements are: 33-24-36; height: 5'10". Last year Ksenia worked in Milan at High Fashion Week. She then turned down a runway show in Prague in order to participate in the 2007 Miss Russia contest. She made the right choice.
Today Ksenia is continuing her university studies, although combining them with modeling work isn't easy. The same goes for her private life - Ksenia says she has yet to meet the man of her dreams.
Watch
a video about Ksenia's vitory:
The city celebrated Ksenia's victory with fireworks
Tyumen treated Ksenia Sukhinova's victory like a city holiday. On the night of December 13 city residents were glued to the news, discussing it on the phone, in chat rooms and forums. The city celebrated Ksenia's victory with fireworks resounding in many different districts. One man confessed that, when he heard about Ksenia's success, he jumped for joy - just like Russia beat the Dutch at the European Football Championships. For most of Saturday night and all of Sunday, Tyumen residents congratulated each other on Ksenia's victory, even those who had nothing to do with the modeling business or the fashion world - not to mention those who know Ksenia personally!
"Ksenia has changed a lot this year. She has become more grown-up, wiser and more responsible," said her friend Ekaterina Vinogradova. "We've been friends for five years. We were classmates at university and went to fashion shows together. Ksenia is a very determined person when it comes to achieving her goals, but not at the expense of others; she has an inner strength. After winning the 2007 Miss Russia Contest, she wasn't at all conceited, but you could tell she'd changed. A few months before Miss World 2008, she was already a queen and inwardly prepared for the title.
Russian beauties
In 1992
Yulia Kurochkina
became Miss World, also in Johannesburg. Today Yulia works in business while raising her 10-year-old daughter. She never became a model.
In 2002
Oksana Fyodorova
won the title of Miss Universe. Today she is an anchor for Russian state television.
All rights reserved by Rossiyskaya Gazeta.