Corporate gifts get the chop this New Year's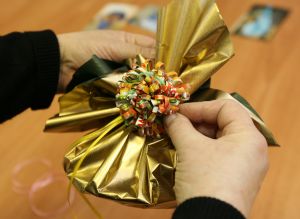 Last New Year's, business partners and clients of Yevroset received gift sets containing a voodoo doll with miniature instruments of torture, handcuffs with the slogan "Yevroset protects you from injudicious acts" and a bar of soap with the slogan "Washes away the dirt."
This year, the mobile phone giant is sending out New Year's cards. "We're economizing," said Natalya Aristova, a company spokeswoman.

It's a major change for a company known for its provocative gifts (one year it sent out yellow dildos). Yevroset, whose founders sold a 49.9 percent stake to VimpelCom this fall because of the financial crisis, is among many companies that are cutting back on holiday gifts such as calendars, wine and chocolate or eliminating them altogether due to tough times.

"We are giving a minimal amount, but of course it won't be the same quantity or cost as last year," said Irina Yefremova, director of corporate marketing at Hewlett-Packard.

Clients will receive a Russian edition of a book about the company's founders, which were ordered "before the times changed," Yefremova said. In past years, HP has given art prints, winter hats and gloves and office equipment such as printers and computer mice decorated with Palekh folk designs.

Orders have fallen drastically for corporate gifts, said Irina Smetankina, public relations and advertising manager at gift company Konfael, which produces boxes of chocolates with company logos.

Orders from companies in the real estate, media and construction sectors have dropped by 50 percent in comparison to last year, Smetankina said. Many companies are saving money by buying generic rather than personalized chocolates, she said.

Nevertheless, the energy and metallurgy sectors still have a sweet tooth, she said, adding that "many companies have doubled their orders." The sales might be linked to the fact that energy workers celebrate their professional holiday on Dec. 22.

Auditing giant KPMG said the crisis had not influenced its gift plans at all. During the summer, the company decided to not to give the usual wine and chocolates and instead put together a gift with a Russian cultural theme, which it is keeping under wraps, said Yevgenia Shchipalova, head of markets at KPMG in Russia and the CIS.

"We are not reducing the number of gifts," she added.

United Company RusAl said it would continue a tradition of giving books produced by the company. Clients will receive an encyclopedia of aluminum and a book about the history of Russian ethnic groups, a company spokeswoman said.

Real estate companies are among the hardest hot by the crisis, but several said they were planning to send out gifts.

A spokeswoman for developer Capital Group, Anna Shadrina, said the company would give gifts but was keeping them a secret before they were sent. She said she thought the budget would be about the same as last year. In the past, Capital Group has sent out lavish gifts such as digital cameras.

A Don-Stroi spokeswoman said her company was also planning to give corporate gifts this year, but she couldn't provide details. Last year, Don-Stroi held a charity New Year's show for children at the circus on Tsvetnoi Bulvar.

Several large companies said they intended to follow a growing trend to donate to charity rather than spend money on gifts.

"We decided not to give traditional corporate holiday gifts this year and allocate this money to social responsibility projects as many charity organizations this year will be facing added difficulties in the economic downturn," Alexander Ivlev, partner and markets leader at Ernst & Young, said by e-mail.

Dmitry Skibitsky, a spokesman for Alfa Bank, said the company used to give notebooks, calendars and other souvenirs, but this year it would give only a "minimal" number of gifts. The company will donate money to the Life Line charity for sick children, he said, although he couldn't say how much.

Lyudmila Mamet, a partner at PricewaterhouseCoopers, said the company would send cards to clients and donate about $130,000 to charity.

"Instead of sending diaries and pens and other stuff, we give money to year-round rehabilitation programs and organize a New Year's party for orphans," Mamet said.

The size of the donation is bigger than last year, she said.

PwC allocated all its budget for New Year's gifts to charity a few years ago and was one of the first to join a program called Charity Instead of Gifts, which now comprises more than 100 companies in Russia and is run by Charities Aid Foundation.

Troika Dialog also intends to donate to Charity Instead of Gifts this year.

Viktoria Kan, information coordinator for Charity Instead of Gifts, said she expected donations to increase this year, although she couldn't yet give an exact figure.

Meanwhile, a LUKoil spokesman said the company wouldn't be giving any gifts this year - for tax reasons.

"We haven't given gifts for several years, and we won't this year," a spokesman said. "The reason is that we need to report to the tax authorities afterward."
All rights reserved by Rossiyskaya Gazeta.