Russians will not economise on New Year festivities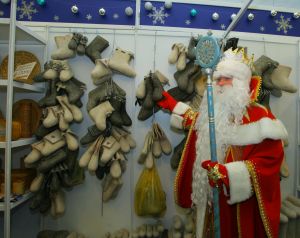 An influential pollster, the All-Russia Public Opinion Institute (VTsIOM), said over 74 percent of respondents planned to spend more than 10,000 roubles ($360) on New Year's Eve, while only 71 percent expected to do the same in late 2007.
Analysts said the poll's results were predictable, and that Russians remained committed to old-time traditions embodied in the popular saying "You will spend the new year the way you celebrate it."

"Most Russians believe in miracles and hope the crisis will end after January 1," said Olga Mezhenina, a psychologist with the Your Ego Centre. She believes many people want to have a good time on New Year's Eve simply out of superstition and that most stress-ridden Russians fear wage cuts or job loss. They want to relax and to stop talking about the crisis for at least one night. "They are ready to economise on anything except New Year celebrations," Mezhenina added.

As compared to 29 percent last year, 43 percent of respondents said they would economise after New Year celebrations. They have cancelled trips and do not plan to visit theatres, restaurants or other entertainment spots. Not a single VTsIOM respondent plans to go abroad, while only 3 percent intend to stay at country houses or visit relatives.

Seventy-seven percent of those polled plan to celebrate New Year's Eve at home.
"There is every reason to call this a family holiday," says Yevgeny Gontmakher, director of the Social Studies and Innovations Center. He added that the crisis would play a positive role in bringing together Russian families.
All rights reserved by Rossiyskaya Gazeta.