A landmark Indo-Russian summit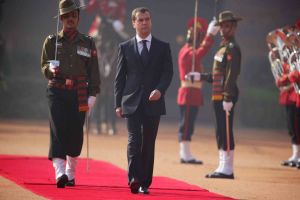 In many ways, the recent Indo-Russian summit in Delhi has opened a new chapter in bilateral relations - as stated by President Dmitry Medvedev during his first official visit to India on 4-5 December 2008. The summit reflected the time-tested, trustworthy friendship between the two countries, and further consolidated their growing strategic partnership in various fields. Nine agreements were signed, in areas related to nuclear energy, defence, trade and economic relations, space, customs, tourism, financial intelligence, prevention of money laundering and legalisation of illicit revenues. These will give a strong impetus to multifaceted co-operation in coming years.
A meaningful event

The Declaration on Indo-Russian Strategic Partnership was signed during President Vladimir Putin's first visit to India in 2000 and received ample content over the seven subsequent summits he attended. Putin had a high degree of exposure to India; indeed, he often handled India-related business during his time as Deputy Mayor of St Petersburg, looking after the city's foreign economic relations long before he took the reins of the nation. The same cannot be said of President Medvedev, who visited India for the first time, and had never dealt with the country - in contrast to many visits to China in recent years. This led to scepticism in some circles about the summit's efficacy. However, its results proved these doubts were misplaced, demonstrating once again that there is continuity in Indo-Russian relations, and that change of leadership in either country does not affect their abiding friendship.

The Russian President's visit to India assumed added significance as Medvedev was the first world leader to enter our country after the dastardly terrorist attack on Mumbai. Obviously, terrorism was pushed to the top of the agenda - both countries are victims of this menace. Expressing strong solidarity with the Indian government and people, Medvedev pledged to "work with India on the whole spectrum of the problem and provide support in all directions." The Joint Declaration signed by President Medvedev and Prime Minister Manmohan Singh urges the international community to provide all assistance in bringing to justice the organisers of the latest attack on India's financial capital. It calls all countries to actively co-operate with India in its efforts to find the masterminds, perpetrators and sponsors of this barbaric act.

Energy potential

One of the major achievements of the summit is undoubtedly the new impetus in peaceful Indo-Russian nuclear co-operation. As well as agreeing to construct four more reactors at the Kudamkulan plant in Tamilnadu, where Russia is already in the final stages of building two reactors, both sides expressed desire for new plants elsewhere in the country - particularly the east coast. A site will soon be identified for six more reactors. Russia will not only build these, but provide a guaranteed lifetime supply of nuclear fuel.

During Medvedev's visit, the countries signed a deal worth $700 million for Russia's nuclear fuel supply to India. Coming in the wake of the much-hyped Indo-American nuclear agreement, both the above deals suggest Delhi and Moscow are poised for long-term strategic partnership in the sphere of nuclear co-operation.

Nuclear energy forms only part of broader Indo-Russian energy co-operation, a traditional sector of our productive relationship since Indian independence. India, which has invested $2.5 billion in the Sakhalin-1 offshore project, our largest foreign investment to date, is on the verge of buying the Imperial Energy company for $2.6 billion. Imperial is currently engaged in oil exploration in Russia, which gave the deal a green light during the summit. India has also been eyeing several oil and gas fields in Russia, including the huge Sakhalin-3 project, in which India is bidding for a stake. In return, Russia is looking at participation in India's downstream projects. All of this suggests Russia is destined to play a significant role in ensuring Indian energy security.

Defence collaboration

Another strong component of Indo-Russian strategic partnership is defence: Medvedev repeatedly emphasised co-operation in this area is ready to enter a new phase beyond the current buyer-seller relationship. The fresh thrust in this sphere encompasses joint research, development, marketing and technology transfer, which will give the co-operation a unique character. Missile development and aviation will be priority areas. The supersonic BraMos joint missile project will be followed by ventures in developing and manufacturing multi-role transport aircraft, fifth generation aircraft and many others.

Both sides have augmented defence ties through a long-term co-operation programme which expires in 2010, and will be extended by another 10 years. Under a deal clinched during the summit, Russia will supply India with 80 sophisticated M-17V-5 helicopters. Issues like the leasing of nuclear submarines and pricing of the new aircraft carrier Admiral Gorshkov also came up for discussion. President Medvedev downplayed media criticism regarding Russian price hikes for the Gorshkov, saying the issue was of "technical" nature and should not be blown out of proportion.

Progressive science

There has been much genuine concern about sagging Indo-Russian trade and economic relations, but it must be noted that the real strength of Indo-Russian co-operation lies in sensitive high-tech areas not accessible to other countries. Bilateral co-operation in space is one such area: Russia's contribution to boosting India's space research is commendable. India's first satellite, Aryabhat, was launched from a Soviet cosmodrome with the help of a Soviet launcher; India's first cosmonaut, Rakesh Sharma, went into orbit on a Soviet spaceship; Russian cryogenic technology provided strong stimulus to our missile development.

Both countries enjoy productive co-operation working on the Russian satellite navigation system GLONASS, as well as joint research projects on the moon and the development and launch of the youth satellite `Youthsat'. India's premier space research centre, ISRO, and Russia's leading organisation in the field, ROSKOSMOS, signed a Memorandum of Understanding for a manned space mission. The MoU envisages that an Indian cosmonaut will go into orbit on a Russian spaceship and that Moscow will provide assistance in building a spaceship for India.

Science and technology has been another sensitive area of Indo-Russian co-operation for decades; there are more than 500 projects in which scientists of both countries are conducting joint research under the Integrated Long Term Programme (ILTP), the largest joint programme between any two countries in the world. Since the programme's tenure is expiring in 2010, both countries expressed the intention to extend it by another ten years. It has been decided to complete the Indo-Russian centre for technology transfer and expedite the industrial application of joint research results.

Trade boost

Leaders of India and Russia have been displaying serious concern over the sluggish growth of trade and economic relations. However, they finally expressed some satisfaction as a positive trend has been growing since 2005. Indo-Russian annual trade turnover, which hovered around $2-3 billion for years, reached $5 billion in 2007. The volume of bilateral trade is expected to reach $7 billion by the end of the current year, which triggers the hope both countries can achieve the target of $10 billion by 2010. Mutual investment has finally showed some positive trends. The joint Chief Executive Officers Committee, co-chaired by Mukesh Ambani and Yevgeny Yavtushenkov - whose telecommunications company, Systema, plans to invest $5-7 billion in India - signed an MoU raising hopes that big private actors will now play a significant role in boosting the two countries' economic and investment co-operation.

Indo-Russian summits do not only review beneficial bilateral co-operation, but provide an opportunity to exchange views on important international and regional issues of mutual concern. The recent event was no exception. Defying US unilateralism, the Delhi meeting once again confirmed both sides' resolve to build a "multipolar world based on the principles of supremacy of law, sovereign equality, territorial integrity and non-interference in internal affairs of other countries." India and Russia re-emphasised the UN's co-ordinating role for ensuring peace and security in the international arena, and a desire for increasing its effectiveness and authority. In this context, highlighting the necessity for reforming the UN system, Russia reiterated its support for India to become a permanent member of the expanded UN Security Council.

The rise of multilateral relations

Delhi and Moscow have expressed satisfaction over growing, target-oriented trilateral interaction between India, Russia and China, which creates the foundation for further co-operation between the three largest countries in Asia. This co-operation is emerging as an important factor in multilateral diplomacy and makes a significant contribution to emerging multipolarity, as well as facilitating collective leadership by the world's leading states. It has been noted that successful trilateral interaction takes place not only between ministries of foreign affairs, but also departments of agriculture, health and natural disasters, and within academic and business circles.

While trilateral Russia-India-China (RIC) co-operation seemed to be a pet project of President Putin, co-operation between Brazil, Russia, India and China (BRIC) appears to be closer to the heart of Dmitry Medvedev. Welcoming greater BRIC interaction, India and Russia expressed satisfaction over the first independent foreign ministerial meeting of the four countries in Yekaterinburg during May 2008, and the BRIC foreign ministers' meeting at the UN 63rd General Assembly in September. The Delhi summit noted the significance of the first meeting of BRIC finance ministers at San Paulo in November 2008 and their co-ordinated stand at the G20 financial summit in Washington. India and Russia expressed confidence that the next meeting of BRIC foreign ministers in India, and the BRIC summit slated for Russia in 2009, would open new chapters in the creation of multi-pronged mechanisms for strengthening co-operation between the world's most dynamic growing economies. Both countries, while welcoming the expansion of interaction between G8 nations and major developing economies, have stressed the need for strengthening this co-operation in order to create a better mechanism to ensure collective leadership in world affairs.

Shared ideas for peace and security

The strategic nature of our relationship is reflected in India's support of Russia in maintaining peace and security in the Caucasus. The Indo-Russian joint statement at the end of the summit, welcoming the Medvedev-Sarkozy plan to resolve the Caucasus problem, highlighted Russia's importance in ensuring peace and co-operation in the region. India became virtually the first major state, outside the Shanghai Co-operation Organisation (SCO) and the Moscow-led Collective Security Treaty Organisation, to support Moscow's leading role in maintaining peace and security in the Caucasus. This is very important for Russia.

India and Russia discussed all major regional issues of mutual concern during the two-day summit. On the situation in Afghanistan, where both countries hold major stakes, Delhi and Moscow came out in favour of a democratic and pluralist Afghanistan and welcomed the country's admission into the South Asian Association for Regional Co-operation (SAARC) as a fully-fledged member. Both expressed serious concern over the deteriorating security situation in Afghanistan as a result of rehabilitating Taliban forces, Al-Qaeda and other terrorist groups, proliferation of trans-border terrorism and links with international terrorism and the global drugs ring. India welcomes Russia's initiative for organising an international conference on Afghanistan, in the framework of SCO, with the participation of all its members and observer nations.

Emphasising the role of SCO in Central Asia, Russia has extended its support of a "more active role for India" as an observer country in the organisation. India, expressing its gratitude to Russia for the support, hopes for more active participation and greater contribution to the organisation's future activities.

The Asia-Pacific region is another area where both countries strive to have a more decisive influence. Both countries have expressed intentions to strengthen co-operation through various organisations including ASEAN, ARF and Dialogue for Co-operation in Asia.

A significant point in the joint declaration is the call to resolve the Iran issue through peaceful means of dialogue and negotiation. While appealing to all sides to demonstrate flexibility and restraint, India and Russia uphold Iran's right to conduct research, in the production and use of nuclear energy for peaceful purposes, in accordance with the terms of the NPT and other international obligations.

The Middle East is another hotspot on which Delhi and Moscow share a similar approach. They called for a comprehensive, long-lasting and fair resolution of the Arab-Israel conflict on the basis of UNSC resolutions 242, 338, 1397 and 1515, through peaceful negotiations that would lead to the creation of a sovereign, independent and united Palestinian state.

There is no major international or regional issue of mutual concern on which India and Russia have differences, adding further significance to the relationship's strategic nature. Perhaps they are the only two major powers in the world which do not suffer from clashes of national interest or difference of opinion on any major issue. This makes them perfect and genuine strategic partners in the 21st century, once again confirmed by the latest Indo-Russian summit.

Professor Arun MOHANTY, Jawaharlal Nehru University, New Delhi.
The article was originally published in the Strategic Culture Foundation on-line magazine.
All rights reserved by Rossiyskaya Gazeta.