Sechin sends OPEC weak signal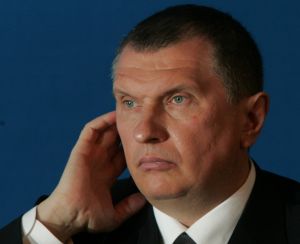 The Organization of Petroleum Exporting Countries agreed to remove an additional 2.2 million barrels of crude from the market starting in January - the deepest single cut it has ever made - at a Wednesday meeting in Oran, Algeria, in an effort to reverse plummeting prices.
In a pre-meeting speech, Sechin said Russian oil companies would be forced to cut supplies by 320,000 barrels a day if prices remain weak. He did not, however, portray the cuts as a move taken in cooperation with OPEC, something President Dmitry Medvedev had previously suggested Russia could do.

Some industry executives were already predicting in October that the country's total output could fall by as much as 5 percent next year, as companies trimmed down their investments.

The government's decision to make those predictions official, rather than formally committing to joining forces with OPEC on cuts, may not have the desired effect of sending the prices up.

"It will be seen by experts as just a little bit disingenuous," said William Ramsay, former executive director at the International Energy Agency. "It won't affect the price; it will be disregarded."

Even this announcement was likely difficult for the government, as it was an acknowledgement on an official level that production would most likely drop, despite three new fields coming on line this year.

Russian crude output likely wouldn't have been in danger of such a fall next year - and might even have been poised to post modest growth - if it hadn't been for the collapse in global prices, said Pavel Sorokin, an analyst at UniCredit Aton.

Energy Minister Sergei Shmatko said in Oran that Russia would produce 1 percent to 1.4 percent less crude this year than last year, the first decline in a decade. Production will drop to between 485 million and 488 million tons, he said.

OPEC accounts for 42 percent of the global crude supply, while Russia accounts for 12 percent.

OPEC's latest cut comes in addition to combined cuts of 2 million bpd agreed to by the 13-member cartel at its last two meetings. This will bring total supply reductions by OPEC this year to 4.2 million bpd, a reduction of almost 5 percent in total world oil supplies, and lowers the group's supply target to 24.845 million bpd. "I hope we surprised you - if not, we have to do something about it," OPEC president Chakib Khelil, who hosted the conference, told reporters.

Despite the record cut, oil fell by more than $3 per barrel, to $40.20 per barrel in morning New York trading, following the release of weekly U.S. data that showed inventories in the world's biggest consumer continued to swell, Reuters reported.

Speaking on the sidelines of the OPEC conference, Sechin said the plans to reduce output next year were a joint decision by the country's oil companies, Interfax reported.

In his speech to OPEC ministers, Sechin asked them to upgrade Russia's status in relation to the organization from observer to that of permanent observer, and invited the cartel to hold one of its events in Russia, according to the summary of the speech posted on the Cabinet's web site.

He also invited OPEC ministers to attend the Gas Exporting Countries Forum meeting in Moscow next week.

There was no official OPEC reaction by late Wednesday to Sechin's announcement of the possible cuts next year or his other statements.

Sechin said Russia had cut exports in November by 350,000 bpd because of low prices. He did not say whether this also represented a fall in production.

Another non-OPEC producer, Kazakhstan, may trim production as well, Sechin said.

Azerbaijan, which is also outside OPEC, may lower production by as much as 300,000 barrels per day, Azeri Energy Minister Natig Aliyev said in Oran.

Norway and Mexico, which implemented production curbs in cooperation with OPEC in 2002, to help bolster oil prices after they fell below $20, said they had no plans to join forces this time.
All rights reserved by Rossiyskaya Gazeta.