Economic growth seen flat until July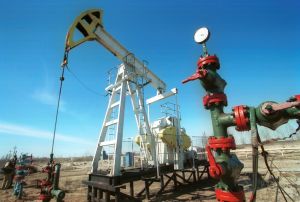 Deputy Economic Development Minister Andrei Klepach said the economy could contract by as much as 0.5 percent in 2009 under a pessimistic scenario crafted by his ministry, but the base projection foresees growth resuming by mid-2009 and reaching 2.4 percent for the year.
Finance Minister Alexei Kudrin has said the economy would avoid recession and post growth of 3 percent next year. Klepach warned last week that the economy might already be entering a recession after posting growth of 7 percent in recent years. He did not use the word recession Thursday.

Klepach's forecasts on Thursday were based on prices for Urals oil of $50 per barrel - compared with $40 now - and the ruble trading at 30.80 to 31.80 to the dollar.

The figures came as the government and its energy monopolies considered various emergency scenarios, and First Deputy Prime Minister Igor Shuvalov suggested that export duties could fall to zero if oil prices reach $28 to $30 per barrel.

"In principle, this is possible," Shuvalov said, Interfax reported. "With low prices for oil and the high cost of production, with huge transport distances, we need to seriously discuss support measures."

Oil and gas accounts for about half of the federal budget.

The country's oil producers have been losing money on exports as crude prices fall more quickly than export duties. The government has already announced a series of measures to remedy the issue, including more frequent revisions of the duties and several cuts.

Chris Weafer, chief strategist at UralSib, said the government was trying to do the impossible in balancing the needs of the oil companies with that of the federal budget. "The bottom line here is they can't do both," Weafer said.

He said the government lacked a clear strategy as to what it would do if the price of oil stayed at current levels or went lower.

Shuvalov spoke a day after Deputy Prime Minister Igor Sechin told oil ministers at an OPEC summit in Algeria that Russia's oil production would likely slide by 3 percent next year, and that Russian oil companies would be forced to reduce production by 16 million tons if prices remained at around $40 per barrel.

Klepach said crude production would fall by only 8 million tons to 480 million tons next year. Production is expected to reach 488 million tons this year.

Oil exports may fall 3.85 percent next year, from a projected 244.4 million metric tons in 2008 to 235 million metric tons, the Economic Development Ministry said, RIA-Novosti reported. Natural gas production will increase next year to 670 billion cubic meters from 665 bcm, it said.

Exports will also increase by 5 bcm, from 203 bcm to 208 bcm, Klepach said.

Klepach also said the base line scenario saw capital outflows of $90 billion and a current account deficit of $45 billion next year.

The country's reserves will top $300 billion by year end, down from $435.4 billion on Dec. 12, he said.

Klepach said the ministry had also considered a $32 oil scenario, but he declined to give any details.
All rights reserved by Rossiyskaya Gazeta.