A crash course in grasping a crisis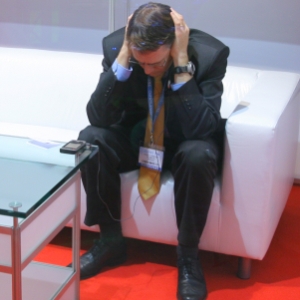 But does the average Russian citizen understand the "financial" in "financial crisis?" The answer, according to global financial literacy specialists, is no. But officials at the Finance Ministry, Central Bank and State Duma say they're working on a program — together with banks and nonprofit organizations — to improve the situation.
"We are taking concrete steps toward the creation of a state program in 2009 that will raise the level of financial literacy in different segments of society, from school children to retirees," said Andrei Bokaryov, deputy director of the Finance Ministry's department of international financial relations.

"The program is mainly aimed at minimizing the effects of this type of crisis, at raising the population's level of trust in the banking system, at understanding credit risks and at promoting family budgets," said Bokaryov, who is working on the project.

He said the Finance Ministry was seeking $100 million from the federal budget for the program, the country's first at the national level, and that it would be voted on in the Duma early next year.

The World Bank is already carrying out preliminary research and setting up pilot programs in schools around the country.

At a recent conference on financial literacy, Andrei Markov, the World Bank's senior human development specialist, stressed that the dangers of financial illiteracy grow considerably during a financial crisis.

"People with less financial knowledge and knowledge of the banking system are more inclined to panic in a crisis, to withdraw all their money from the bank and put it under their mattress," Markov said.

According to a survey conducted in July by the National Agency of Financial Research, 50 percent of Russians over the age of 18 rated themselves as having no or insufficient financial knowledge and skills. On the other hand, 90 percent of 10th graders said their financial knowledge and skills were either satisfactory or good, compared with 44 percent of adults.

In an October survey of 1,600 people in 42 regions, the agency found that only 2 percent of the population trusted private banks, while 17 percent had faith in state-controlled Sberbank, Russia's largest bank.

"Such a low level of trust in private banks is surprising because as of 2004, state deposit insurance guaranteeing deposits in the case of bankruptcy has been in force in Russia," the agency said in the report.

But the survey also found that 44 percent of those with savings or debit accounts were not aware of the existence of state deposit insurance. In October, the government increased federal deposit insurance to 700,000 rubles (now about $25,500) per depositor from 400,000 rubles, but 57 percent of all respondents were not aware of the change.

Amid incremental devaluations of the ruble, Russians in October pulled 6 percent of their deposits, or 355 billion rubles ($13 billion), from banks, the largest monthly withdrawal in at least two years. Deposits in foreign currencies, however, were up 11 percent.

To reverse such trends, the program that will focus heavily on educating students by setting up finance classes in schools and universities. Retirees, too, will be targeted, with information available at places they frequent, including medical clinics and Sberbank, said Bokaryov, the Finance Ministry official.

Brook Horowitz, the executive director of the International Business Leaders Forum in Russia, said that increasing the population's financial literacy was key to bringing about greater personal fiscal responsibility in the country.

"Such a huge task of increasing the awareness of the people about their financial responsibility can be resolved only by joining efforts of all stakeholders: government, business and the media to get that message across to all groups of the population," said Horowitz, who with the forum and other partners has established a financial literacy program and educational web portal called Azbukafinansov.ru.

A financially responsible person plans a household budget; is aware of the risks and consequences of using financial products such as credit cards and auto and home loans; puts money away in the bank, saves for a rainy day and plans for financial needs in different stages of life, such as retirement, she said.

By that standard, Russians have a long way to go in terms of financial planning and responsibility.

According to the October survey results, only 32 percent of Russians have either savings or debit accounts. Twenty-four percent plan a monthly household budget and account for all receipts and expenditures, and only 7 percent of the population makes financial plans a year in advance. Less than 11 percent have a pension strategy.

For Vladimir Kreindel, an analyst at the Institute of Financial Studies, the most "striking example" of the country's low level of financial literacy is the still "widespread" use of financial pyramids. The schemes promise extraordinarily high returns —from 30 to thousands of percent, annually — to naive, get-rich-quick investors who "get in early."

In the 1990s, Sergei Mavrodi's now notorious MMM pyramid defrauded millions of Russians, who were still new to capitalism and the concept of a stock market. Mavrodi was found guilty in April 2007 of cheating 10,000 investors out of 110 million rubles, although millions claim losses from his and similar scams.

In May, investors in the St. Petersburg-based pyramid Rubin Business Club lost more than billions of rubles after the unlicensed company's owners stopped all payments and fled with the money.

"It couldn't be more surprising that the Russian public is once again being lured by MMM-like structures. In the case of pensioners, sometimes it turns into a tragedy," Kreindel said.

But risky and outright fraudulent investment options may begin to decline as people sober up to the realities of the economic crisis.

"Over the last 10 years, Russia has experienced a period of extraordinary growth. A period of recession will make people more aware that markets and the economy can go down as well as up," Horowitz said.

"And this doesn't just apply to your average citizen; it applies in particular to the super-rich who have done very well in the last 10 years. They didn't necessarily appreciate the full burden of financial responsibility and have put themselves and others at tremendous risk by taking on bigger debts than they could manage."

Since August, when Russia and Georgia went to war and foreign investors began pulling their investments out of the country, the Forbes-listed 25 wealthiest Russians together lost more than $230 billion, according to Bloomberg data as of mid-October.

The crisis has already prompted Lyudmila Bodilovskaya, a student at the Moscow Aviation Institute, to learn more about responsible financial behavior.

"I was a blank slate when it comes to finance," said Bodilovskaya, who attended two seminars this fall — one dedicated to the financial crisis — hosted by the Institute for the Development of Financial Markets.

"I hear about the financial crisis everywhere, but it was not clear how it affects us. I wanted to learn how to deal with financial problems if they come up in the future."

Bodilovskaya said she became more confident and assured after learning from economists and finance specialists at the seminar.

"Before, all I heard was how bad everything is, but no details. After hearing concrete advice and forecasts from professionals, such as how to choose a good bank, I calmed down a little bit."
All rights reserved by Rossiyskaya Gazeta.